The movie industry in Nigeria has lost a veteran actor.
Popular actor, Ernest Asuzu is dead.
The actor died at the age of 36 on Tuesday evening, January 26.The news of his death was confirmed by his wife, Jennifer Asuzu.
Jennifer told The Nation that Asuzu fainted on Tuesday evening and never woke up.
Ernest before his death suffered from a stroke and was unable to continue his career for years. The ailment was exacting a heavy toll on the actor as he was also unable to walk.
His body is currently being conveyed to his hometown for burial. The actress questioned the precautionary measures that have been taken ahead of schools reopening.
As Nigeria battles with the second wave of coronavirus, Nollywood actress, Annie Idibia has raised concerns about the resumption of schools in the country.
The actress who reposted a screenshot of singer Seun Kuti Instagram post in which he asked if the kids of those who made the decision for schools to resume attend the schools asked to resume, stated that she is not sure if she wants her children to resume school.
Annie Idibia also questioned the precautionary measures that have been taken ahead of schools reopening.
She Wrote;
"Still very disturbing ooo Honestly I am not sure I want my kids to go back to school "NOW" with this 2nd wave of COVID!! It's really out there! I am so SCARED!! How many parent let their kids off to school today ?Pls tell me how u did it ? And do you TRUST the schools enough to know where' the teachers, assistants, cleaners , school chef , security, even the students , where' they have been for the last 2weeks? Have they encountered anyone with COVID ? Knowing or unknowingly??Has every single staff taken the COVID test before resuming to take care of our kids personally I don't trust n can't account for the above Won't these kids hug each other ?? After missing their friends from d long break? I know pple close who caught COVID n still healing from it ! That even watched pple drop in isolation centers . Please let be wise with the decision we make in the lives of our kids." Nollywood actress Omotola Jalade-Ekeinde has threatened to take action against a media outlet on Instagram over an alleged affair with APC chieftian Adams Oshiomhole.
The Instagram page, @gistloversblog had earlier reported that they plan on spilling details of a secret affair between- the married actress and the former governor.
In her reaction, Omotola gave the blog to take down the post otherwise face the consequences of their action.
She asked her followers to report the blog's page on Instagram.
"I ordinarily dont do this but after thinking about it thoroughly and seeking advice i have decided to! So this Blog ran this story and people started coming to my page.

"Ive always known there are people who are sick and will tell you stories that have Never happened but to publish that on a platform as big as instagram? You must be held accountable," she wrote.
In another post she vowed that the persons behind the blog will be located:
"Still waiting for the so called blog to post their proof of their dirty insinuation. You don't just wake up and randomly write nonsense! You will prove your story and be found," she wrote.
Omotola is married to captain Matthew Ekeinde. They have four children together.
Nollywood actress Regina Daniels has gifted her mother, Rita Daniels, a Toyota Prado SUV for her birthday.
According to the MC at the party held in honour of Daniels' mum, the SUV cost N15M.
In a recent Instagram post, the billionaire wife, posted a photo of a brand new Toyota Prado – reportedly worth N15 million – she got for her mother.
In a video that has now gone viral, the actress, is seen holding her mum, who is inconsolable as she is presented with the SUV.
The actress has earlier taken to her Instagram page where' she celebrated her mum on her birthday.
"Words cannot express how grateful I am for everything you have done for me and no matter what I do, I can never be able to repay you my treasure. I am just the vessel of the REGINA DANIELS brand while you are the creator and I will forever be indebted to you I don't have the world to give but I will do everything possible to make sure you stay happy. Happy birthday my queen.
NB: Today is your day and I will definitely make your day mama"
A Nigerian actress has showed off her backside on social media, saying she didn't get the gift from God just to hide it.
Moyo Lawal who is endowed shared her photos with her fans as the world entered a new year.
"If I hear piim 😝...before you complain remember that God didn't give me bumbum to cover it oooh 😂🙈🐒🐒...... ......... ..... .... So excited about this New Year... (I don't know why oooh) .... ..... No new year resolutions but 🤔 I might, just chase Clout and actually do bad things for once in my life..... ( then maybe go out ( let me not jinx it biko) ..... ....... ......then maybe try to please the crowd 🙄Naaa 😂 ...... #Rebel for life baybee 😂...... ........ ..... ....... ............................ ..... ............ ....... ......... Thank you so much everyone for giving me such an amazing birthday ..... ...... So much love (I felt it 😭😭right here ❤) ...... ...... Thank you " she wrote.
Nollywood actress Tonto Dikeh has shared how 2020 turned out to be the best year of her life.
According to her, she faced many challenges and overcame them, but, most importantly, she said she has been "financially stable in a financially crumbled society."
She further said that this year also made her appreciate privacy, minding her business and drinking so much water.
Tonto added that this year, people were faced to slow down due to COVID-19. She also advised people not to take this year for granted due to the challenges.
Read her post below.
THE YEAR 2020 HAS BEEN MY BEST ADULT YEAR EVER.
"2020 has made me evolve, take good care of myself, appreciate life even more with crazy Covid, been financially stable in a financially crumbled society,2020 has made me appreciate privacy, minding my business and drinking so much water..
I think 2020 it's safe to Say I won..SO I TAKE A MIN TO SAY" SELF, THANK YOU FOR BEEN GREAT THRU CTAZY 2020."
Nigerian controversial male barbie James Brown has blasted actress Victoria Inyama for slamming Etinosa.
Few ago, Nollywood Actress Victoria called out Etinosa after she announced that she was pregnant outside wedlock.
Victoria accused Etinosa of constantly criticizing and attacking baby mamas while becoming pregnant herself. She also claimed that Etinosa few years ago,attacked her and threatened her but says she's happy for her."
.However, Nigerian cross dresser James Brown has slammed Victoria for shading Etinosa, as he revealed that Victoria once insulted her and accused him of being "gay and a lesbian".
In a video posted on his Insta stories, James aged shamed Victoria and called her a hypocrite for insulting Etinosa while she once insulted him. He also said Etinosa is not in Victoria Inyama's category as he warns her but to attack Etinosa again.
In the video, he said; "Leave etinosa she's not in your category don't be smart and stupid at the same. You call me gay, lesbian, homosexual" A controversial blogger cum actor, Uche Maduagwu has lashed out at Nollywood actress, Adesua Etomi.
Nollywood actress, Adesua Etomi has been tackled by actor, Uche Maduagwu for lambasting President Muhammadu Buhari's aide, Lauretta Onochie.
Recall that Etomi yesterday blasted Onochie calling her a disgrace.
The lovely wife of Nigerian musician, Banky W, had recently slammed Lauretta Onochie after the she shared a picture of some little kids wearing face masks made out of cartons while advising people on the importance of wearing face masks.Uche Maduagwu who disagrees with Adesua Etomi's decision to insult the government official came out to question if she has lost total respect for the elderly.
He went ahead to describe her as a woman lacking virtue whiles pointing out that Adesua is younger than Lauretta's last born.
Whiles pointing out the presidential aide is old enough to be her mother, the controversial actor urged her to go back and receive proper home training.
See a screenshot of his post below:
Nollywood actress, Fathia Williams has set aside the difference between- her and Iyabo Ojo to console her colleague over the loss of her mother.
Iyabo Ojo who lost her mother over the weekend took to social media to make the announcement.
The actress wrote on Instagram: "My mother, my jewel, my guardian, my pearl, this is how you said goodbye? We were joking about this days ago. I told you how much I want you to live longand watch the children become grown men and women but you said no; your joy was that I am happy. That your spirit would protect and be with us. Little did I know you were set to leave.
"With total submission to the will of God, I announce the death of my mother, Mrs Victoria Olubunmi Fetuga, who passed away in her sleep in the early hours of today, Saturday 21st November at the age of 67-years. Mama, you might be gone but we, your children and grandkids would make sure your memories remain and linger on. Like you promised, your spirit remains with us. Iyabo Ojo, your love."
Despite the fact that the duo are not on talking terms, Fathia Williams took to her social media page to commiserate with the bereaved actress.
She wrote:"God will console you, Iyaboojofepris. May mama's soul rest in peace "
Charly Boy has reacted to being called out by his daughter, Dewy Oputa.
Dewy accused her father of gaslighting and using her for clout after he went online to say he's proud to have a lesbian daughter.
She claimed he says one thing online just to be "father of the year" but offline he doesn't care if she's alive or not.
Charly Boy, aka Area Fada, has now reacted.
In an Instagram post, he pointed out that being a parent is hard.
He wrote: "Any Fool can have a child and call themselves a Parent. A real Parent is someone who puts that child above their own selfish needs."
In another post, he addressed his daughter's criticisms and said it has opened his eyes and exposed him to the huge growing community of LGBTQ people in Nigeria.
He went on to advise parents who have LGBTQ children to be more understanding.
He wrote:
Urgent Info for Parents.

Hummm, ogaooo.
I swear Parenting is not an easy somethingoooo.
Na me and my Baby, Dewy dey trend these days.
Shey una see as my Princess dey tackle me


My post a few days ago, about my daughters
right to her sexuality, opened my eyes and exposed me to
the Huge growing community of LGTBQ's in Nigeria.
Ol boy, e shock me. I can't lie.


My People, as I wake yesterday I setup a hotline for young people who have challenges communicating with their parent/parents, who needed a listening ear. I was on the phone, from 9am till 11.45pm,
recorded over a thousand calls before I lost count. I had to shut down, my ears don full. I heard stories dat made me teary eyed, the emotional trauma the LGTBQs community is going through amongst the numerous wahala we face in dis country.

Parents must understand that sometimes their child will probably not live the life they dreamed for them and this has nothing to do with being good parents or bad parents. Our influence and nurture for our kids it's not more than 25%, 75% of their lives is under attack by external influences, social media, peer pressure, what they pickup in school, etc etc.
We should sometimes allow our children to unfold but not without guidance and laying good values, morals, believe in self and always encouraging them to be their authentic self, as they grow.

Our children have their own hang ups you must know., weather you feel they are childish, immature or fall short of your picture of them. They've struggles too and suffer from internal turmoil—don't make them feel any worse. Imagine their internal struggle when these confusing feelings arise.
Our society is filled with hypocrisy, lesbianism/homosexuality started way before social media, predominantly in the north. Now, it in our churches, Nollywood, House of assembly, even in Aso Rock, it's everywhere' my People, and we must educate ourselves to have a better understanding of this phenomenon.
Nollywood actress, Stella Damasus has reacted after BBNaija star Erica Nlewedim said she wants to be pampered and babied by someone.
Erica recently told her fans and followers on Twitter that she does not want to be an adult anymore, as she would love be taken care of by someone.
After she posted the tweet, her fans acknowledged the tweet and some advised her to tell Kiddwaya to pamper her.
Stella Damasus, reacting to Erica's tweet, welcomed her to the club of people wanting to be pampered and babied.
"Welcome to the club my love", Stella Damasus wrote.
See tweets below;
Maureen Esisi, the estranged wife of Nollywood actor Blossom Chukwujekwu has thrown a shade at who seems to be her ex husband.
She stated clearly that she doesn't need another liability in her life.
Taking to her Instagram page, Maureen Esisi, threw a shade at her ex-husband with the statement as she insinuated that he was a liability in their marriage and she doesn't need any more liabilities.
Maureen took to her social media page to appeal to men who are unable to pull down the walls she has built around her not to be infuriated as weak men aren't her thing.
According to her, it will take a strong man to get her full attention, in a relationship context I presume, because she came out publicly few months ago to declare that she is now single.
She wrote;
"Don't get mad at me if you are unable to break down the walls I built around me and I do absolutely nothing to help you..
I built it ALONE, so if you can't tear it down ALONE, you aren't the person I'm looking for. Weak Men aren't my thing… I don't need yet another Liability….."
Nollywood actress, Empress Njamah is a year older today November 17 and she shared these sexy new photos of herself posing in a bodysuit to celebrate her birthday.
She wrote in one post: "I'm officially a year older today and much cooler than ever. What Do you think. Happy birthday to me!!!"
See full photos below.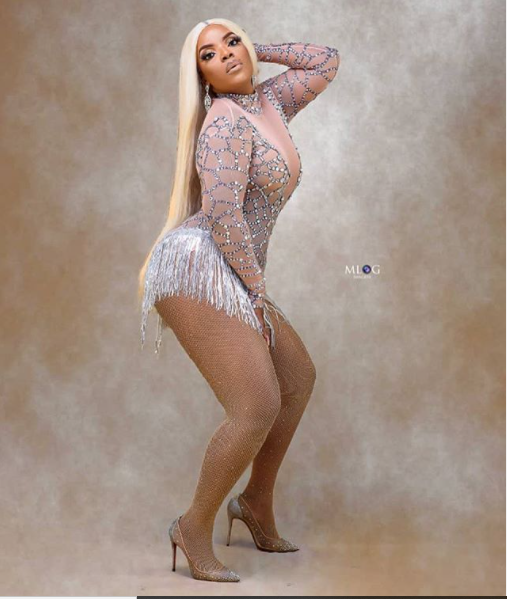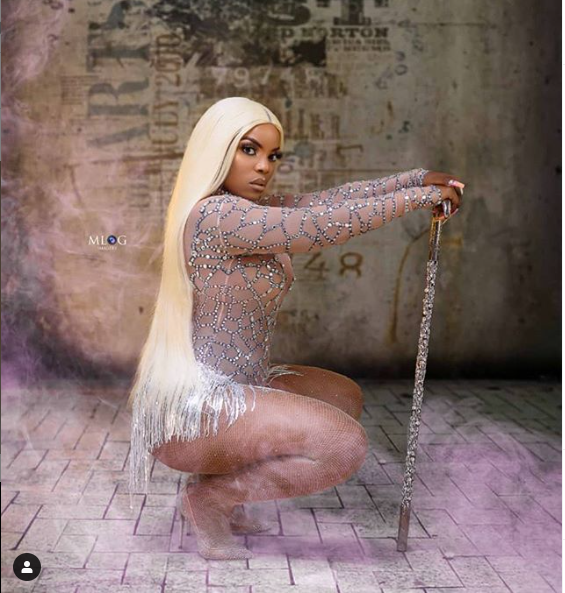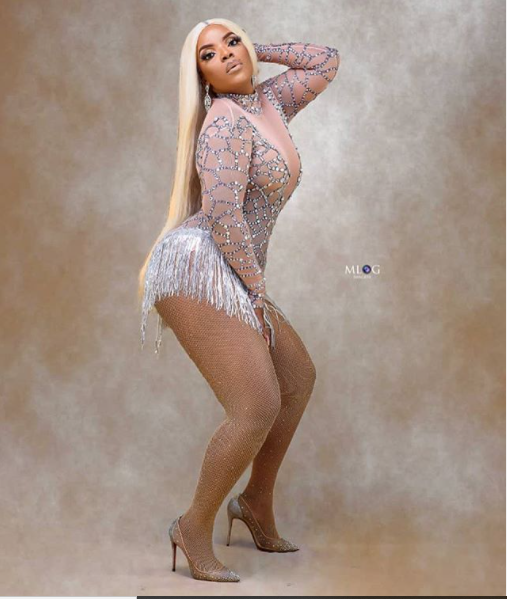 Nollywood actress, Uche Ogbodo has taken a swipe at her colleague Inem Peter over her comment about 'women being happier without men'. '
Recall that Inem Peter had shared a post in which she said that "women are much happier without men. Men are women's major problem".
Reacting to this, Uche Ogbodo stated that it is coming "from the mouth of a full blown lesbian".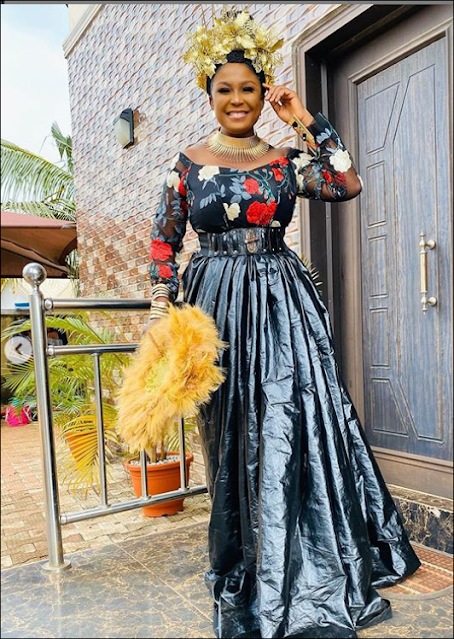 Actress Ruth Eze has disclosed that she is currently under pressure to get married but can't afford to marry a poor man.
The actress who revealed this in an interview with Inside Nollywood, said she doesn't mind being a second wife as long as the man is rich and agrees to a white wedding.
Ruth Eze said; "My mother is on my neck to get married but I can't afford to marry a poor man, truth be told. So, I have been calming my mum down. I told her if I don't look well and rush into marriage, I might rush out before she knows it.
"For now, I'm here waiting for true love and without money, love can't be true and sweet. I also don't mind being a second wife as long as he agrees we have a white wedding."