Security agencies in the state have been directed to ensure strict enforcement and compliance with the directive.
Governor Okezie Ikpeazu, of Abia State, has imposed curfew in Aba and Umuahia metropolis between- 10 pm and 6 am daily from today, Monday, 5th April 2021 till further notice.

This is sequel to security reports received from multiple sources, and informed by the need to continue to protect innocent citizens and residents of the state.

The Commissioner for Information, John Kalu in a statement made available to Vanguard explained that security agencies in the state have been directed to ensure strict enforcement and compliance with the directive. Only those on essential services with proper identification are exempted from the curfew.

"We urge traditional rulers, men of the State Homeland Security Team and Community Vigilante Services in the state to monitor movement of persons within their respective domains and take necessary measures to protect the people and their property.

"All law abiding citizens are advised to go about their normal duties, outside the curfew period, without fear of molestation as the security architecture of the state is robust enough to guarantee their safety."


Nigerian activist, former presidential candidate, and Sahara Reporters' publisher, Omoyele Sowore had been granted bail by a Chief Magistrate Court sitting in Abuja in the sum of N20m.
Four other activists, who were arrested with Sowore on New Year's Eve in Abuja for holding a protest against bad governance, were also granted bail in the sum of N1m each.
They are; Juwon Sanyaolu, Peter Williams, Emmanuel Bulus, and Damilare Adenola.The court, presided over by Mabel Segun-Bello granted the Sahara Reporters publisher N20 million bail and two sureties in like sum. One of the sureties must be a federal civil servant not below grade level 12.
While ruling on the bail application filed by Sowore's lawyer, Marshal Abubakar, the Chief Magistrate, Mabel Segun-Bello, ruled that the sureties must reside in Abuja metropolis with landed properties and known addresses.
Among the conditions of bail is that Sowore must physically report to the registrar of Federal Capital Territory High Court every Monday and Friday pending the determination of the case against him.
He is also not expected to travel outside Abuja and the country.
However, the 2nd to 5th defendants were admitted to less stringent bail in the sum of N1million and one surety in like sum.
Nigerian singers, Omah Lay and Tems have been arraigned before the Makindye Division court in Kampala for flouting COVID-19 guidelines in Uganda.

The fast-rising stars were on Sunday December 13, arrested together with their managers for holding an illegal concert at Ddungu resort in Munyonyo where' they gathered big crowds, contrary to President Museveni's directives on the prevention of the spread of Covid-19.
It was gathered that the organizers of the event disguised the show as a lunch and dinner event but it turned out to be a concert with large crowd in attendance.
Omah Lay, Tems, and the others were arrested and charged with doing "acts that are likely to cause the spread of infectious disease, Covid-19," according to him Assistant Superintendent of Police and Deputy Police Spokesperson, Luk Owoyesigyire, Kampala Metropolitan Police.
Earlier in March, Museveni banned all music concerts, closed down bars, banned fans at all sporting events, and reduced the numbers of people who could attend church services.
Uganda's Ministry of Health on Sunday reported 461 new confirmed coronavirus cases, taking the total number of cases in the country to 27,532.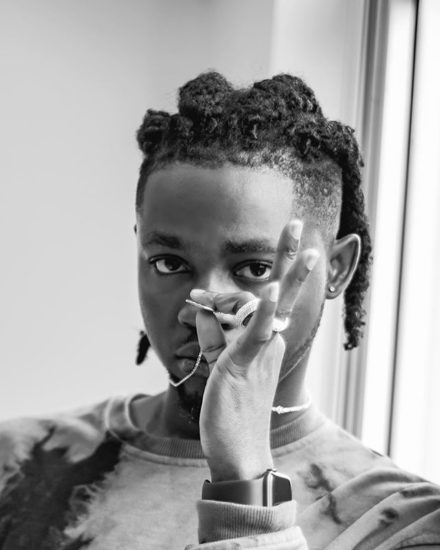 On the night of December 12, 2020, Omah Lay had performed at The Big Brunch, which held at Speke Resort, Wavamunno Rd, Kampala, Uganda.
On Sunday, December 13, 2020, news broke on social media that KeyQaad and Warner Music artist, Omah Lay had been arrested in Kampala Uganda. The news was broken by Ugandan journalist, Canary Mugume.
In a tweet at 4:19 pm, Mugume wrote, "Just in: Nigerian Artist Omah lay has been arrested by Katwe police, together with the manager of the venue where' he performed from last night; Dungu Ivan and the Events manager Prim Kasana, all are in custody, @Lukowoyesigyire confirms."
He had confirmed the news from Luk Owoyesigyire, Assistant Superintendent of Police and Deputy Police Spokesperson, Kampala Metropolitan Police.
On the night of December 12, 2020, Omah Lay had performed at The Big Brunch, which held at Speke Resort, Wavamunno Rd, Kampala, Uganda. But apparently, the event hadn't gone as planned.
Burna Boy's 84-year-old grandfather and music critic, Benson Idonije, said he hoped his grandson would bring home the Grammy Award this time.
It is no longer news that for the second year in a row, Damini Ogulu, better known as Burna Boy, has been nominated for a Grammy Award.
The singer was nominated for the prestigious award in the World Music Album category for the forthcoming 2021 edition of the programme.

In the 2020 edition of the awards ceremony, the Odogwu singer had been nominated in the Best World Music category alongside other heavyweights such as Angelique Kidjo (winner), Altin Gün, Bokanté and Metropole Orkest, and Nathalie Joachim and Spektral Quartet.

Expectedly, the nomination generated a lot of frenzy on social media, and Burna Boy's 84-year-old grandfather and music critic, Benson Idonije, said he hoped his grandson would bring home the Grammy Award this time.

He told Sunday Scoop, "I hope that this time, Burna Boy will clinch the Grammy. I feel encouraged and on top of the world. All the artistes in his category have their unique qualities but at the end of the day, one artiste must emerge the winner. I am hopeful that by the grace of God, it will be my grandson. It was his sister that informed me of the Grammy nomination. When we spoke on the phone, he called me a special name has for me and said, 'We have made it again'. I then prayed for him.

"Twice As Tall is a great album. The chronology of his skills was evident. When I heard it, I knew it was worthy of a Grammy and saw the new direction he was going. The album was completely message-driven. There is a particular song that has a very powerful message. I have listened to his albums over time and the songs have grown on me. They are timeless pieces."

Idonije, who used to be the manage r of Afrobeat pioneer, Fela Kuti, also advised other artistes to be original and African.

He added, "My advice is that artistes should sound like themselves and not others. They need to be original and focus on Africa. Africa will bring out the best expression in them. Some artistes want to sound like other people but that is not the way to go. Artistes should keep working hard. Burna Boy works very hard. He is always in the studio, experimenting. He is not getting these things on a platter of gold."
Argentine star, Lionel Messi left out of Barcelona squad to face Dynamo Kiev in Champions League this week.
He attempted to activate a disputed clause to leave Barcelona for free over the summer.
The six-time Ballon d'Or winner has not been included in Ronald Koeman's final 19-man squad ahead of the Blaugrana's latest Champions League outing in Ukraine.
Messi will join Gerard Pique on the sidelines as Barca look to extend their 100 per cent record in Group G, with the Spanish defender set to miss a large portion of the season after suffering a serious injury during Saturday's 1-0 Liga defeat to Atletico Madrid.
"We've got various players out due to injuries and we've decided that we won't be taking Leo or Frankie because the situation in the Champions League is quite comfortable for us with the nine points that we've got," Koeman said on Monday.
"And these two players need to rest because they've played a lot of matches. So we think this is a good moment to rest them."
Messi played the full 90 minutes of Barca's defeat at Wanda Metropolitano, but was unusually subdued as the team suffered their third domestic loss of the 2020-21 campaign.
Courtney, from San Diego in California, was deemed female by doctors soon after birth because of her overall physical appearance.


Courtney Skaggs
Metro UK writes on Courtney Skaggs, the woman who was born with a vagina and testicles.
***
An intersex lesbian born with testicles and a vagina has declared 'we are not freaks' after being operated on as a baby.

Courtney Skaggs, 29, is genetically male but was also born with a clitoris. However, her body rejected its male hormones and she now lives as an 'intersex femme' following the invasive surgery from when she was a newborn.

Courtney, from San Diego in California, was deemed female by doctors soon after birth because of her overall physical appearance.

She then underwent surgery at six weeks-old to 'normalize' her genitalia by removing her testicles, but is now distressed that such a major, life-changing procedure was conducted without her consent.
The operation took place even after Courtney had been identified as intersex at birth, when doctors realized she had XY (male) chromosomes.

Courtney believes she was 'robbed' of her true identity when she underwent surgery to remove the testicles she was born with, and wishes her body had been left alone. She said she's unsure how her body would have developed differently if she was left with her male hormone-producing testes.

Courtney now campaigns for intersex-related surgery to be stopped, claiming it strips individuals of 'who they really are'.

She said: 'When somebody makes the decision to alter- your body you are stripped of who you really are. That leads to mental trauma for a lot of people.

'I don't know where' my gender ID would be if I didn't have that surgery. I have been robbed of who I am from the core.

'I was made to feel like I should hide who I really am for my whole life. I was forced into what was is accepted as the female definition.
'I was born with sex traits that don't fit the standard male and female, I have some characteristics of both.

'We are neither male nor female, we are a hybrid of genders dotted along the sex spectrum. For me, I was born with testes, a vagina and a clitoris, and have XY chromosomes, typically found in males.

'But my body rejected the male hormones and my body developed predominantly feminine. I also don't produce any oestrogen and I didn't go through puberty like any of my friends, I have never had a period.

'I grew up in a world where' jokes were made about intersex traits so a lot of the time I've felt misunderstood and alone. I've spent a lot of time worrying if my body is normal.

'I have been made to feel like a freak for who I am because there is a lack of acceptance and recognition in society for people like me. I have not been able to live my life authentically because I've felt like I have to hide who I really am.

'I was pushed to fit into the female definition for most of my life. I have learned to love that I am intersex and that is something that should be celebrated, not hidden.'
Courtney's anatomical make-up means her body has never produced the usual amount of female or male hormones, which resulted in her going through the menopause as a pre-teen. Additionally, Courtney said she has never had a period, and did not go through puberty in the same way her friends did.

Only around 1.7% of the population is born with intersex traits, roughly around the same amount of people who are born with red or ginger hair, but having a combination of male and female genitalia like Courtney is much rarer.

Each person's body responds differently to being intersex; females are known to produce masculine body hair and may be born with a noticeably large clitoris, or lacking a vaginal opening. Males, meanwhile, can be born with a notably small penis, or with a scrotum that is divided so that it has formed more like a labia (outer vaginal folds).

'A lot of people don't even know we exist', said Courtney, who is lesbian.
'For so much of my life it was dominated by trauma and pain because I have never known anyone else like me. I tried to hide who I really was when I was growing up because I had no one to compare myself to.

'But in recent years I have worked hard to love myself and after connecting with online support groups, I have found I am not alone.

'We have a right to body autonomy. Sex is non-binary and there is a spectrum, people like me are more in the middle of that spectrum than most other people.

'Awareness is so important and I am working very hard to make things better for future generations of intersex individuals. So much depends on education and one key thing that needs to end is intersex surgery.

'Many people like me want to live our lives how we are born.'
Among other things, Courtney says she wants to see greater government recognition, support, adequate healthcare and laws to 'protect our bodies' to be introduced.

She also hopes sharing her story will help others in a similar position, and said: 'Representation and community acceptance is key to help people who are intersex realise that their bodies are beautiful just the way they are.

'Now I have turned the pain and trauma I used to experience into joy, my identity brings a lot of color into my life instead of darkness.'
***
Source: Metro UK
Suspected insurgents have abducted nine women in Takulashi village of Chibok town in Borno state on Sunday, November 1.
According to reports, the insurgents reportedly attacked the mourners in Takulashi village, opened fire on the mourners targeting and killing men, after which they selected nine women they abducted.
The criminals retreated unchallenged as there is no security outpost in or around the village.
Channels TV reports that the Police Public Relations Officer in the state, Okon Edet, neither confirmed nor denied the attack.
"You very well know that any issue outside the metropolis is under the control of the military as the entire state is still under state of emergency."Edet said
Since the abduction of schoolgirls in Chibok from their dormitories in 2014, the town has continued to suffer series of attacks across its villages.