The divorced entrepreneur said on her IG story that there are no recipes to having a great marriage. According to her, reading books on marriage, being a great cook or having explosive sex styles is not a guarantee that one's marriage will be successful.
The 37-year-old vlogger noted that it takes two deliberate people to work out a successful union-.
She wrote;
"The earlier people realize that these relationship/ marriage is not rocket science but luck. You are truly lucky snd blessed to experience love, commitment, compatibility etc.
There are no recipes to a successful marriage, no rule books to what works. 2 people make a choice to be desirable and spend time working to keep what they have.
If you like read all the books, Cook all the meals, Have the most explosive sex styles, What will work, will work. What will scatter, will scatter. It's life, it's lessons, it's seasons. Thank you all for coming to my TedTalk." Ace music producer Don Jazzy yesterday shocked the world when he announced he had an ex-wife by the name Michelle Jackson after posting photos of their wedding.
The Mavin CEO whom many had before yesterday regarded as a top bachelor, revealed that he got married when he was just 20 years old and got divorced 2 years later because he gave more attention to his music.
He further stated that he regretted the action, but his love for music can not be replaced with any other thing in the world.
He wrote:
"I getting married? Well truth is almost 18 years ago I was 20 and I got married to my best friend Michelle @yarnstaswitch and it was beautiful. I loved love and I loved marriage. Michelle is soooo beautiful inside and outside with such a soft heart. But then me being so young and full of dreams I went and fucked it up cos I was giving all my time to my Music.

Music became priority instead of my family. We got divorced when I was 22 and it hurt. I am still very much in love with my music and I wouldn't want to marry another and fuck it up again. So I'm taking my time. Why am I just saying this now?? I really like to keep my relationships private actually. Past or present. But I was watching the bounce interview with Ebuka which is almost like a tell all interview, and I felt bad skipping this huge part of my life. So yeah make una no vex o."
You can see below the photos of the woman Don Jazzy was married to:
Popular crossdresser, James Brown has reacted to claims that his colleagues is responsible for snatching husbands and breaking homes.
This came after aphrodisiac business woman Jaruma, alleged that crossdresser are responsible for broken homes in the country and not kanyamata products.
Reacting to the video, James Brown debunked the claim while advising women to learn to hold their men tight.
He also revealed that he use Kayanmata and that the product works for him. However, he said crossdresser aren't not responsible for broken marriages.
Watch the video below.
https://www.instagram.com/reel/CME3fmqANG5/?igshid=15yhmkq8neh7q
This is according to a court document indicating that the divorce which was filed by Ubi Franklin at an Abuja High Court, was granted.
The ex-wife to the music label -executive had initially filed for divorce at a Lagos court, which was denied by the Judge.
The presiding judge had on Monday July 8, 2019 ruled that the divorce proceedings have been cancelled stating further that the reason for both parties wanting a divorce is not valid.
The court also noted both parties should settle their differences and that since Lilian confirmed that Ubi provides for their child and both of them are very good friends, then there is no reason for a divorce.
The celebrity couple who got married in November 2015 and had their son, Jayden in 2016, started having issues after the birth of their son with news of trouble in their marriage awash on social media until they both decided to part ways as husband and wife.
A source who gave reason for their decision to separate, stated that the actress always complained about how distanced her husband was. "He never showed up in any of her filming location and this was often a thing of worry for Lilian", he said. Other reports claimed infidelity and physical abuse as the reason their wedding packed up immediately their son Jayden was born. Nigerian singers, Adekunle Gold and Simi are celebrating their second wedding anniversary today January 13th, 2021.The couple last year celebrated their wedding anniversary in Cape Verde, but such romantic trip looks unlikely this year due to COVID-19 lockdowns.
Adekunle Gold and Simi had their white wedding in January 2019 and have since welcomed a baby girl. The love birds took to social media to celebrate their second wedding anniversary, as they professed their love for each other.
Celebrating the special day, Adekunle Gold wrote on Instagram;
"I look back to the first day I met you.

I had just left the office, so excited that you had finally given me the audience to see you.

This local boy put on a white byc vest and a pair of new lilac pants bought specially for the occasion; I even made sure I was there earlier so I had front row seats.

I watched you talk, sing, laugh and dance and Omo I knew that very day that I wanted to be in your life.

I knew that day that I wanted my forever to be you.

Here we are, all three of us, talking, dancing, singing, laughing and doing this this called life together.

With you, I have been blessed with so much, so much, it's too much to count.

I love you Simi.

Forever your steward.

#2"
Simi on her own part wrote;
"2 years.

Well, 2 years on government paper and 7 years since I gree for you, you lucky man. Through a pregnancy. With a baby we're both unashamedly obsessed with. Through a pandemic. And it's still you. I've never had to wonder if you're in my corner. You're still the best man I know. You should have been your own best man (don't leave me).

One of my favorite things about you is that you're a really, really good person. I like you a lot. I'm so proud to know you and be your wife. I pray that God continues to be the foundation of our marriage and home.

I love you Kunle Kosoko. Now, forever and one extra day, and then another, and then another, and then another, ati be?be? lo…

Happy Anniversary Baby

PS: My wedding was totally the best wedding party I've ever been in my life. Lol."
The man said youths in each Igbo community popularly known as Umunna, need to reduce the demands they make to men who come seeking the hands of the female members of their community in marriage.


The Thread
An Igbo man took to social media to lament about the highcost of getting married in Igboland.

Making particular reference to the demands on the marriage lists given to intending grooms in Nnewi, Anambra state, the man who made his complaint via his Twitter handle @Kene_Nnewi, said youths in each Igbo community popularly known as Umunna, need to reduce the demands they make to men who come seeking the hands of the female members of their community in marriage.

He Tweeted;
''I have kicked against this in my umunna and will fight it until the -executive adjust it... If you can... fight for yours as well. Igba-Nkwu in igboland is getting more expensive every day by day.. I told my umunna either we cut down the list of drinks or take all drinks out entirely.... collect 70k for the two goats 10k for few crates and one schnapps and that's it...this issue of gathering to share almost 8bottles of drink per head after Igba-Nkwu have to stop.''

When a Twitter user replied by saying ''African culture dey make things too hard these days'', Kene disagreed saying it is the greed in this generation that has led to the expensive wedding lists

''Not African culture but our generation greediness..our ancestors never had it this way''
See Tweet Below;
Actress and movie producer, Mercy Aigbe, is celebrating both the new year and her 43rd birthday today, 1st January 2021.
Taking to social media, the elated mother of two shared some stunning photos of herself to celebratethe special day.
Mercy Aigbe thanked God for keeping her alive writing;
ANUNIMORIGBA Father to you be all the Glory, Honor and Adoration!Glowing in God's Unending Grace, Chapter 43"
Mercy Aigbe recently said she has not yet given up on love, despite her bitter marriage experience writing;
"I have not given up on love and I would never do that. A lot of people ask, 'Mercy, are you going back to your husband, or remarrying'? The truth isthat I don't even know. I am more focussed on my businesses, raising my children and acting career. Whatever will come after in terms of marriage and relationship, when I get to that bridge, I would cross it. As a filmmaker, I see myself as a sort of preacher because I believe movies are meant to be entertaining and educative." Controversial Nigerian OAP Toke Makinwa, has lectured ladies on seeking for a man as a life partner.
She advised them on financial freedom before marriage.
Taking to her social media page, Toke Makinwa, told ladies that while they are praying for a man who is comfortable already, they should also pray for their own pockets.
She wrote that this was one of the mistakes of the past generation and mothers, which led to them paying dearly.
See what Toke Makinwa wrote below;
Ladies..most especially young ladies pls as you are praying for a man that has his shit together, whatever that means to you. (Money,security,etc), pls pray for your pocket too, get your own shit in order too. No one wants a liability, it get some kind insult you want to avoid

A lot of women that supposedly married rich won't tell you how hard it is when you are solely dependent on your partner for everything, a lot of them are stuck accepting BS. See everyone wants to enjoy but it's nice when you bring value, when your partner knows that you get too.

Abeg ladies start saving too, buy shares too, buy property if it's your thing, stand solid or at least try, a man with money is the icing on the cake and not the entire dough.

It's been long we gisted, been so occupied but the kind of stories I hear that still happen in 20/20 just shows that everyone is looking for a better life, no one wants liability anymore and even those inside not all that glitters is gold.

At least if you enter husband house with small savings, your own car, your own small business however little you are making or more, you can get mouth to talk if shit goes down, a lot of our mothers did not learn financial freedom and many paid dearly some r still paying for it.

I'm not saying don't aspire to marry rich o, cos everyone is aspiring to come up. Even the guys sef these days are looking to marry up so pls aspire for better but make sure you level up too. Her that degree, take that course, start that business, e get why o
Former BBNaija housemate, Tersser Waya popularly called Kiddwaya has stated that he is preparing himself to become an actor one day.
During a recent interviews, the reality star spoke extensively about his career plans, as he revealed he was getting set to take up a career in acting.
"So, acting is something definitely I want to go into. As for me, I want to take my time, get mentally, physically fit, and very prepared because acting is a very hard job, he said in a recent interview.
Kiddwaya who spoke at length in the interview also said if he had any chance to meet a global figure, it would be popular Hollywood actor, Dwyane Johnson professionally called the Rock.
The reality star described the wrestler turned actor as an awesome guy. " The guy is awesome. He's an amazing guy, He works so hard. He is so kind. He is a person that I look up to and admire.
The billionaire son while speaking about marriage said he is not ready for marriage. He stated that he still has a lot to achieve and he believes he is not mentally ready to get married and would rather wait on God's time before getting married.
"I don't think I am ready for marriage. One has to be ready mentally before going into such a commitment. For me, I am not ready. I will say God's time is the best time. One day, you will wake up and you will know that it's now time to get married you will definitely know.
He also noted that his future wife has to be a God-fearing woman, that believes in God strongly, confident and fun-loving, and very respectful.
A Zimbabwean woman has been arrested and arraigned before a court for marrying another man while still married to another.
The Sunday News reported that Moreblesing Maridza (41) of Platinum Park in Zvishavane, married another man after accusing her first husband of failing to be intimate with her for the past 12 years.
Maridza was arraigned before a court on charges of bigamy which she pleaded guilty to. She however told the court that her first husband, Mr James Chivandire had become mentally challenged and was no longer capable of performing his duties as a husband prompting her to marry the other man.
The publication reported that Chivandire allegedly fell and suffered from mental illness in 2000. In 2012 Maridza went on to marry a second husband, David Mhuru who she started living with after their wedding.
The matter only came to light in September when an officer at the Registrar-General's office observed that Maridza had two valid marriage certificates.
Maridza was sentenced to six months in prison after being arraigned before a court. However, three months were suspended on condition that she pays a fine of $5 000 and the other three suspended on condition of she not committing a similar offense in the next five years.
Controversial actress, Anita Joseph has suggested that young people should marry a partner they can't fart without fear in their presence.
According to the 35 year old, anyone who is not married yet should ensure they marry someone they can gossip with and who they can really consider to be their friends.
Sharing a lovely photo of herself and her husband, Anita wrote;
"Marry your Friend.. The one you can relate with gossip with" Whisper to "Fart with Play with joke with "…. Bottom Line Marry your Friend "I married my best Friend"..Marriage is Sweetee when you marry your Friend !! It's sweeter when you marry the right One "Ya Gazie"
See how some social media users reacted to Anita's marriage advise;
@iam_chally wrote "Wahala for who marry there enemies"
@nnenna_aldo wrote "How you know a happily married couple 101. They turn to motivational speakers"
@brandynwosu wrote "Wahala for who no marry best friend ooo….double Wahala for who no come get sweet marriage"
@a1politicss wrote "Staged happiness. Marriage wey go soon crash"
@zeth_jewellery wrote "Awon marriage adviser plenty for this gram se"
Banky Wand his stunning wife, Adesua Etomi-Wellington, are celebrating their third wedding anniversary today November 25th, 2020.
Taking to his social media page to mark his special day, the actor and singer wrote that getting married to Adesua is the second best decision he made in his adult life.
He wrote on Instagram;
"3 years ago, Susu and I made the decision to loveeach other forever. But the only reason forever iseven possible, is because we made the decision to make God our foundation. And while a foundation is the part of the house that people don't see, it's by far the most important.
Because you can fix cracks in the walls, refurbish the rooms and repaint the halls, but you can't get the foundation wrong if you want any chance of the house standing at all. The structural integrity of a house requires a foundation that is built to last.
I recently heard a Pastor say that love can't keep a marriage going… he said it takes God and commitment. I think maybe he had a bit of a misunderstanding of what love really means. Because… well, God IS love. And love is commitment. Without both, it certainly isn't love and it definitely won't work. People sometimes think Susu led me to God. But it's not true. God led me to Susu. And He has kept us through it all.
Marrying @adesuaetomi is the 2nd best decision I made in my adult life. The best was re-dedicating my life to Christ.
Susu, I am thankful for you, and grateful to you. You're everything I want and much more than I deserve. You mean the world to me and I intend to spend the rest of my life proving it. I love you now more than ever.
3 years down, I'm looking forward to forever.
I love you. Happy Anniversary Shuga.
#BAAD2017 #BAAD2020 #BAADforever
"Love is patient. Love is kind. It does not envy. It does not boast. It is not proud…
It always protects, always trusts, always hopes, always perseveres. Love never fails."
– 1 Cor 13:4..8"… and the rains descended, the floods came, and the winds blew and beat on that house, and it did not fall, for it was founded on the rock."
– Matt 7:26″
Singer Abolore Adegbola Akande aka 9ice, has come out to appeal to the public to help him beg his wife, Olasunkanmi, after a video of him with another lady in a hotel leaked online.
During the week, a video of the singer and another lady made the rounds. 9ice could be seen caressing the lady's boobs and also warning other guys to stay away from her. A naked photo of him in the bathroom was also shared online.
A sober 9ice has shared a video on his Instagram page this afternoon, appealing to the public to help him beg his wife whom he got married to in January 2020.
In the video, the singer said this is his third marriage and he wants it to work
''I have done something so shameful, something terrible and it is costing me my family and the most important thing to me right now is my family.

The 9ice that you always see and appreaciate is beacuse I have a backbone, Olasukanmi Akande and because of this terrible thing that I have done, it is costing me a whole lot.

I apologise for what I have done and I need you guys to help me beg my wife. She is my backbone.

I have excelled in so many other things but one thing I have being failing is my marriage but this marriage, I want it to work. Please, help me beg my wife. Save this marriage for me''he said
Watch the video below
A Nigerian fashion designer, Hafsat has given birth to a set of triplets three years after she and her husband adopted a baby girl.
According to an interview granted to Northern Hibiscus, after six years of marriage without a child, Hafsat and Aminu opted for adoption. They adopted a baby girl, who they named princess Zahra, three years ago.
Their breakthrough came this year as Hafsat conceived and gave birth to three bouncing baby boys on November 13th.
Taking to her business page on Monday, November 16, Hafsat shared the good news to her friends and family, thanking them for their support and prayers all through the journey.
"Alhamdulillah Alhamdulillah. Allah is indeed merciful. We have been blessed with three baby boys, born on the 13th of November, 2020," she wrote.
"We give gratitude to the almighty. Thanks for your endless support and prayers althrough the journey"

A Nigerian woman identified as Gladys, who was accused of witchcraft and allegedly caged in her home in Orerokpe in Delta state, has been rescued and taken to the hospital.
According to Human rights activist, Harrison Gwamnishu, who shared the story, said that the mother of eight is originally from Ozoro in Delta state but got married to a man from Orerokpe. He said the husband and his family members, after many years of marriage, accused the lady of being a witch and threw her into a cage .According to Harrison, the husband despite accusing his wife of being a witch, still had sex with her in the cage and left her there to die.
Gladys while in the cage, had her three children but was rescued after Behind Bars Initiative, was informed about the situation got on Monday, November 16.
However, Harrison and his team arrived in Orerokpe Tuesday morning November 17 and have moved the lady to the General Hospital in Orerokpe for treatment.
See more photos of the woman below;
Maureen Esisi, the estranged wife of Nollywood actor Blossom Chukwujekwu has thrown a shade at who seems to be her ex husband.
She stated clearly that she doesn't need another liability in her life.
Taking to her Instagram page, Maureen Esisi, threw a shade at her ex-husband with the statement as she insinuated that he was a liability in their marriage and she doesn't need any more liabilities.
Maureen took to her social media page to appeal to men who are unable to pull down the walls she has built around her not to be infuriated as weak men aren't her thing.
According to her, it will take a strong man to get her full attention, in a relationship context I presume, because she came out publicly few months ago to declare that she is now single.
She wrote;
"Don't get mad at me if you are unable to break down the walls I built around me and I do absolutely nothing to help you..
I built it ALONE, so if you can't tear it down ALONE, you aren't the person I'm looking for. Weak Men aren't my thing… I don't need yet another Liability….."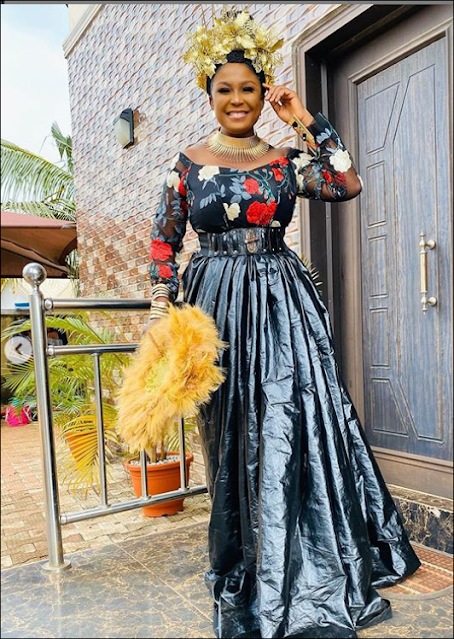 Actress Ruth Eze has disclosed that she is currently under pressure to get married but can't afford to marry a poor man.
The actress who revealed this in an interview with Inside Nollywood, said she doesn't mind being a second wife as long as the man is rich and agrees to a white wedding.
Ruth Eze said; "My mother is on my neck to get married but I can't afford to marry a poor man, truth be told. So, I have been calming my mum down. I told her if I don't look well and rush into marriage, I might rush out before she knows it.
"For now, I'm here waiting for true love and without money, love can't be true and sweet. I also don't mind being a second wife as long as he agrees we have a white wedding."
Reverend Polycarp Zongo, a pastor of the Church of Christ in Nations, Jos, Plateau State, who was kidnapped by the Islamic State In West Africa (ISWAP) around Bauchi-Gombe road, has been released.
Pastor Zongo was released on Friday evening, October 30, through an undisclosed process, officials say. Details about his release are yet to be disclosed, however, it was gathered that he communicated with his wife to confirm his release.

The pastor, who went missing while travelling to Gombe State for a conference, had appeared in a video this week saying he was abducted by the Islamic State West Africa Province.

Pastor Zango said he was in the custody of the insurgents alongside two other Christian women, who were also abducted.

In the video, the cleric seen seated behind a prayer mat, said he was abducted on Monday, October 19, 2020.
"My name is Reverend Polycap Zongo and I am a pastor at COCIN LCC Wild Life Park, Plateau State, Nigeria. On October 19, 2020, I was travelling for a conference in Gombe when I was abducted by Boko Haram insurgents who caught me on the road. Right now I am with them," he said.

"I am appealing to the governor of Plateau State, Simon Boko Lalong, and the Senator of Plateau North, Barrister ID Gyang, and the Christian Association of Nigeria and COCIN Church to please help save me from their hands. They also abducted two Christian women who are also here with me, we are appealing to be rescued." he added.

It is not clear if Miss Fayina Ali, a Kaduna-indigene of Adamawa State, who was also said to have gone missing same Monday he was captured, is among the two Zongo mentioned.

Miss Ali had held her marriage introduction on the weekend of her disappearance. Her wedding with a Air Force personnel is slated for December 2020.
For entertainers and social media influencers, having baby mamas has somewhat become a norm in the entertainment industry. However, 39-year-old ''Kingmaker'', Harrison Okiri, popularly known as Harrysong says he doesn't want a baby mama.
Harrysong said, "Everything about marriage has been suspended for now. I'm focusing more on my music and business. The truth is that I'm still young and having the passion to settle down early is a normal feeling. When you meet someone and don't really connect is a pointer of what could happen later in life. You can't manage yourself into a life-time journey, you have to be 100 per cent sure. In my case, I wasn't so sure anymore. There are some things I can't talk about. For now, I have to manage it on my own.''
"As long as you're above 20 years, you should be eligible for marriage. As a celebrity, distraction can be one of the reasons of not getting married early but finding the right person is very important.
"Personally I don't support having a baby mama even though it's a common phenomenon nowadays. Having a baby mama is a personal decision. I don't have a baby mama because I don't want it.''
The singer, who also said that it was okay to criticise singers if they erred, noted that new crop of artistes were not taking the shine off him or anyone.
''Young artistes are not a threat to me in any way. The sky is big enough. That's why they came and took their own place. Music is a function of who works harder and smarter. These young guys are talented and I enjoy their music. Even in other countries, a time comes when young artistes spring up and it's healthy for the music industry. It's not a threat to me in any way. Rather, it's very healthy for our industry. Sometimes, I don't even know people who have booked me because you have to get through people to do that. I just know that I'm to perform somewhere and keep the date. You can criticise us, we're open to it, when we (singers) make mistakes, we should be corrected and everyone should move on.''
The latest ambassador for Popl Nigeria further noted that his new body of work. 'Right About Now,' was a new definition of his career. He said, "My fans should know they are not alone and that I understand that things are hard currently but they should try and stay strong because things are going to get better. The nine-track album is produced by Dalorbeats with features from Davido, Stoneboy, Tufan, Hero, and Rudeboy. It's a bodywork that I use daily to encourage myself to achieve things."
In a statement, brand manager, Popl Nigeria, Ayodeji Ajayi , said "Harrysong plays on the high-end entertainment level and it speaks to our targeted market which is the youth and the working population.