Ace music producer Don Jazzy has finally opened up on the reason why he didn't sign singers Simi, Teni and Falz at the early stages of their career.
Speaking in a Black Box Interview with Ebuka Obi-Uchendu, the music producer revealed how he lost Falz due to his affiliation with another manager and how he failed to choose Simi in a music contest he organised years back.
Don Jazzy also noted he couldn't sign Teni because she was based in Atlanta, USA at the time and he had not gotten to the stage of bringing people from overseas down to Nigeria.
Furthermore, he said that the singer he never wanted to manage is Davido because he knew he would become big.
He said;
"I can't say I turned them down. For Falz, the working situation wasn't just right. I run a firm that could handle almost everything he needed.
"But I think he had like a management company set up already. It was like Tiwa Savage's but I had to grow into that kind of scenario where' I had to handle someone that had a record label, some blueprint process.
"I equally didn't reject Simi. I did a Twitter contest for 'Journey of A Thousand Miles'. I also loved her cover because she was one of the people that participated but she didn't win.
"I didn't pick the winners. I liked her but you can't sign anybody. That's one person I also regretted, I won't say regret. But I wish we worked on stuff together. The same thing with Teni. We used to check up on each other.
"I had not grown to the point that I would move you from Atlanta to Nigeria for work. Now I can and we work before deciding if we are going to sign. Before I knew what was happening, there were faster people.
"She released records and I was like, 'okay, we lost that one'. Three hot stars. The only person I didn't want to sign was Davido I didn't want to sign him but I knew he was going to be huge. They have money already now"
Mya Yafai, Young Ma's ex-girlfriend was spotted holding hands with Davido at St. Maarten in United States.
Davido is alleged to be dating the model since last year and has visited him in Nigeria in December and also spent some time with him in Ghana in January.
In the video shared by Mya on her Instagram page, she was spotted having fun with Davido and his crew, flew his private jet and also had his song "Holy Ground" playing in the background.
However, Nigerians are currently dragging Mya on her social media page as they call her a boyfriend snatcher and a side chic.
See some of the screenshot from the comment section below.
Following the drama with singer, Zlatan Ibile, an old tweet written by DJ Cuppy has resurfaced online.
Recall that DJ Cuppy last year, called out singer Zlatan on Twitter for blocking her on social media for months, without giving her an explanation.Nigerians on social media also dragged Zlatan for blocking the billionaire daughter on social media.
However, Davido's personal logistics manager Afeare Isreal, today revealed the reason why Zlatan blocked DJ Cuppy on social media. According to him, Cuppy did not give Zlatan any money after they featured in the music collaboration.
An old Tweet written by DJ Cuppy on Twitter confirmed that none of the featured artists in Cuppy's album was paid. The throwback tweet was a response to a tweet made by a fan who wondered how much she paid Fireboy for him to have featured in her album.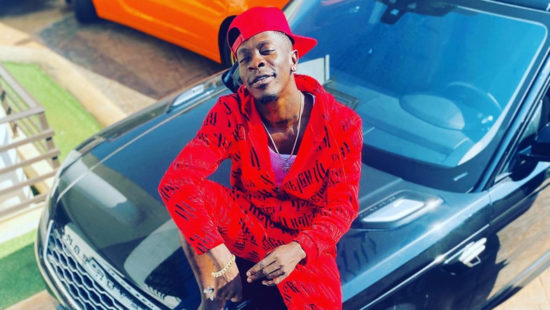 Charles Mensah, a Ghanaian singer better known as Shatta Wale, has taken a hit at Burna Boy, an Afrofusion star, for allegedly badmouthing him.
In an Instagram live on Saturday, the self-acclaimed Dancehall king vented his chagrin at the 'African Giant' crooner who he claimed gossiped about him while in Ghana.
During the yuletide season, Burna Boy was spotted at a number of events and nightclubs occasionally mingling with the crème de la crème of the entertainment industry in Ghana.
The Grammy-nominated singer also reportedly engaged in a brawl with Davido, his colleague, at Twist nightclub in the west African country.
But in the short video, Wale said he is very disappointed that Burna Boy refused to reply to his messages all through the period he was in Ghana.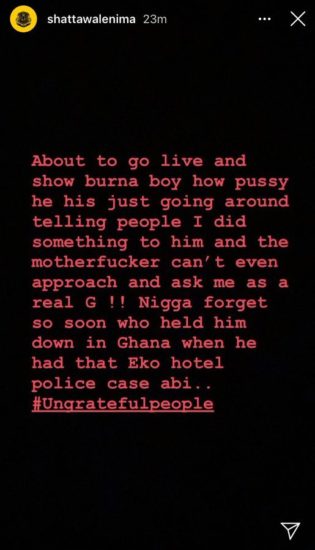 A High Court in the Federal Capital Territory has stopped the prosecution of Pastor Sam Adeyemi of Daystar Christian Centre, Burna Boy, Davido, Falz, activist Deji Adeyanju and others over the #EndSARS protest.
The High Court ordered a Magistrate court to immediately stop proceedings and stay action against 50 persons who supported the #EndSARS protests, following a criminal complaint filed by lawyer Kenechukwu Okeke.
Okeke in his suit alleged that during the riot, properties were destroyed and the defendants who promoted the #EndSARS protests must be held responsible for it and also brought to justice.
Justice Bello Kawu who delivered a judgement on the application filed by Activist Deji Adeyanju (one of the defendants) for a judicial review of the substantive matter before the magistrate, said;
"An order of this honourable court granting leave to the application to issue and serve on the defendant an application for judicial review against the proceedings/direct criminal complaint of Hon. Omolola Tolulope Akindele sitting at Chief Magistrate Court II, Wuse Zone 6 in the suit of Kenechukwu Okeke Vs Deji Adeyanju and 49 others in suit No. CR/49/2020.

"An order of this honourable court, that on the grant of the above orders herein, serve as stay of all proceedings on the direct criminal complaint Omolola Tolulope Akindele sitting at Chief Magistrate Court II, Wuse Zone 6 in the suit of Kenechukwu Okeke Vs Deji Adeyanju and 49 others in suit no. CR/49/2020.

"An order of this honourable court, that on the grant of the above orders herein, same order as granted by the honourable court shall restrain the Nigeria Police Force, 2nd and 3rd defendants from taking any further steps, arresting and or taking any unconstitutional/illegal steps in the form of any guise as it concerns the subject matters whatsoever before this court herein as it concerns all parties in the proceedings."
Nigerian singer Davido has reacted angrily after seeing a video of the the wife of a Presidential Candidate, Bobi Wine in Uganda being stripped by Police.
This sad incident is coming just a day before the Presidential election in the east African country., and if you recall, Bobi Wine is contesting against the incumbent, Yoweri Museveni who has ruled the country for over 30 years.
According to report, the Ugandan police force carried out an arrest on the wife of the Presidential aspirant who has the support of the people.
In the viral video, Bobi Wine's wife was dragged, stripped, and tortured in the presence of her son who struggled to rescue his mum while screaming, "leave my mummy."
In reaction, the popular Nigerian singer and songwriter expressed utter disgust at the abuse of power and the violation of human rights.
"Jesus !! This is disgusting !this is so so bad !! POWER IS A DRUG !!". He tweeted.
Watch the video below;
Liya, first lady of DMW and Davido's signee has been allegedly arrested by officers of the Lagos Police Command for flouting the COVID-19 rules.
Recall that a nightclub was raided by the Police on Saturday and and and many fun seekers were arrested.
Speaking on the development, the police public relations officer in the state, Muyiwa Adejobi confirmed the arrest of the club goers.
Adejobi said Commissioner of police, Hammed Odumosu personally led his team on the midnight raid.
He identified the club raided as Lounge 38, Bode Thomas, Surulere.
A quick check revealed that a female artiste who was recently signed to DMW by Davido, was among those arrested.
See Photos:
There has been so many conversations surrounding the usage of song writers in Nigeria, with some singers shying against the fact that they have used song writers in the past.
Some section of the fans are also of the opinion that those who use song writers are not as talented as those who don't.
Runtown on his own part has stated that there is nothing negative about artiste using song writers, as he sighted Davido's Aye as one of the songs he wrote.
He also revealed that he co-produced the track which earned the DMW boss many nominations and award during the period of its release.
Runtown made this known when a fan asked him in aonline question and answer session he had on Wednesday, December 30."
@iRuntown Who wrote Aye? #AskRunTown,'' the fan tweeted.
He tweeted: "I wrote it. And also co-produced it. Nothing wrong in using song writers if you write song for me and I like am I go sing am."
I wrote it. And also co-produced it. Nothing wrong in using song writers if you write song for me and I like am I go singam. https://t.co/WWwaH3NQAH— Runtown (@iRuntown) December 30, 2020

Yul Edochie has tackled Nigerian youths for tweeting about Davido and Burna Boy fighting in Ghana instead of fighting against child molestation in Nigeria.

In a tweet shared on his handle this morning, Edochie wrote;

Davido had taken to social media to announce that he would be quitting music, after there were multiple online reports that he had a brawl with Burna Boy at a club, Twist, in Ghana.
The brawl was alleged to have started after Burna Boy reportedly moved towards Davido's camp in the club. According to reports, the African Giant was allegedly angered as the DJ in the club continued to play different songs by Davido, despite the fact that Wizkid and Burna Boy were in the club.
So far both Burna Boy and Davido's camp have kept mum over the alleged brawl at the club in Ghana despite videos that have surfaced online as The Punch has reached out to them but to no avail.
Calling on players of the Nigerian music industry to speak to Davido over his decision to quit music, Cubana Chief Priest described the singer as the pillar of the music industry in Nigeria.
He wrote on Twitter;
"If Davido should leave Music, the entire Nigeria music Industry will collapse. We all know how he has lifted so many people today. The real Odogwu himself David Adeleke"