The marriage between- Ubi Franklin and Lilian Esoro has been officially dissolved.
This is according to a court document indicating that the divorce which was filed by Ubi Franklin at an Abuja High Court, was granted.
The ex-wife to the music label -executive had initially filed for divorce at a Lagos court, which was denied by the Judge.
The presiding judge had on Monday July 8, 2019 ruled that the divorce proceedings have been cancelled stating further that the reason for both parties wanting a divorce is not valid.
The court also noted both parties should settle their differences and that since Lilian confirmed that Ubi provides for their child and both of them are very good friends, then there is no reason for a divorce.
The celebrity couple who got married in November 2015 and had their son, Jayden in 2016, started having issues after the birth of their son with news of trouble in their marriage awash on social media until they both decided to part ways as husband and wife.
A source who gave reason for their decision to separate, stated that the actress always complained about how distanced her husband was. "He never showed up in any of her filming location and this was often a thing of worry for Lilian", he said. Other reports claimed infidelity and physical abuse as the reason their wedding packed up immediately their son Jayden was born. Taking to his Twitter page to warn the women, Don Jazzy complained about them sending the raunchy videos to him, as he is also in a relationship.
Nigerian producer Don Jazzy, has cried out about ladies sending silhouette challenge videos to his DM.
The dance routine usually features ladies typically dressed down while dancing to Paul Anka's song, Put Your Head On My Shoulder released in 1987 and stripping when Doja Cats' song, 'Streets' which was released in 2019 comes on.

The women dance under red lights allowing viewers to only see the silhouettes of their naked bodies.
Even though the red light only shows the silhouette, the wrong shade of red, as observed in some of the videos means people can see more than just a silhouette.

What even makes the trend more exciting are speculations that with the aid of virtual reality, viewers can see beneath the red lights.

Taking to his Twitter page to warn the women, Don Jazzy complained about them sending the raunchy videos to him, as he is also in a relationship.
He Wrote;

"People are doing their own #SilhoutteChallenge inside my Instagram DM." I have a girlfriend ooo."
The federal government has been accused of denying justice to protesters shot at during #EndSARs protest in October of 2020.
Amnesty International lamented following 100 days since the incident took place.
Since the shooting at Lekki tollgate in Lagos State, the government has yet to secure justice for the victims of the incident but has been engaging in denials and cover-up.
Amnesty International expressed worry that the EndSARS movement's supporters have continued to face intimidation from the state actors such as the Central Bank of Nigeria which since December 2020 froze the accounts of about 20 identified supporters.
In a release on Thursday, the AI stated that the authorities had yet to initiate concrete police reforms.
The international body said, "Since the assault by security forces, which killed at least 12 people, Nigerian authorities have targeted supporters of the protests against police brutality by the disbanded Special Anti-Robbery Squad. Some of the movement's supporters have had their bank accounts frozen."
"The bloody events of 20 October 2020, when Nigerian security forces killed at least 12 people during the violent dispersal of peaceful #EndSARS protesters at Lekki and Alausa, have cast a shadow over Nigerian society that lingers to this day," said Osai Ojigho, Director of Amnesty International Nigeria.
"Instead of bringing suspected perpetrators to justice and prioritising genuine police reforms, Nigerian authorities have been abusing their powers by subjecting those who supported the protests to intimidation, harassment and smear campaigns."
The AI stated that reports from across Nigeria indicated that police violence was still widespread despite government promises of change.
Amnesty International noted that it was concerned that the Nigerian authorities would continue their current ban on protests.
It reminded the government of its obligations under the Nigerian Constitution of 1999 (as amended) and international human rights treaties to - which the country is a state party - to allow those who gather peacefully to express their views without fear of arrest or intimidation.
"International human rights law also requires the Nigerian authorities to carry out prompt, thorough, independent, impartial and effective investigations into violations of human rights of the protesters including the right to life, such as those committed at Lekki and Alausa, as well as in other parts of the country, and to identify and bring suspected perpetrators to justice in fair trials.
"Those suspected to be responsible for the killings should be brought to justice in accordance with international fair trial standards," Ojigho added.
Amnesty International is calling on the Nigerian government to suspend accused officials, pending investigations, and to ensure that victims access justice and effective remedies.
It will be recalled that the state government set up a panel of inquiry to investigate complaints against SARS and the incidents at Lekki and Alausa on 20 October 2020.
However, the government officials and the military continue to deny that anybody was killed during the protests while restating their resolve to punish leaders of the #EndSARS movement against police violence.
The National Identity Management Commission has revealed that telecommunication companies can now conduct NIN registration.
Telecommunications companies will now be able to register Nigerians who have not gotten their National Identification Number.
According to Punch, the revelation was made by National Identity Management Commission.
NIMC said the measure is to reduce the large crowds at its officers.
Director-General, NIMC, Aliyu Aziz, said some other private and public organisations had also been licensed by the commission to provide NINs in order to address the crowds at commission's offices.
This came as workers of the commission told Punch on Tuesday that the Minister of Communications and Digital Economy, Isa Pantami, had constituted a committee to address the demands of NIMC employees.
NIMC workers had downed tools on January 7, 2021 in protest against the poor welfare issues at the commission, but their strike was suspended after the intervention of the minister.
Responding to an enquiry as regards measures taken by NIMC with respect to complains by citizens and the crowds at the commission's offices, Aziz said mobile network operators had been empowered to also give the identity numbers.
"We have licensed private and public sector organisations including telcos ( telecommunications companies) so as to create more centres," he stated in a WhatsApp message to our correspondent.
On December 15, 2020, the Federal Government declared that after December 30, 2020, all SIMs that were not registered with valid NINs on the network of telecommunications companies would be blocked .
It later extended the December 30, 2020 deadline following widespread opposition against the earlier announcement and gave three weeks' extension for subscribers with NIN from December 30, 2020 to January 19, 2021.
It also gave six weeks' extension for subscribers without NIN from December 30, 2020 to February 9, 2021, but many organisations had called for further deadline extension or outright suspension of the NIN registration process due to the large crowds who had yet to have their NINs .
On the meeting between- NIMC workers and the communication minister, the President, Association of Senior Civil Servants of Nigeria, NIMC Unit, Asekokhai Lucky, said some resolutions were reached.
He said the minister told the union- that some of the demands being presented by the workers were new to him, as he only took over the supervisory role of NIMC in October 2020.
"So what he (Pantami) did was to set up a seven-man committee to work on the issues and submit a report to him in two weeks' time," Lucky stated.
Lucky said the 21-day ultimatum earlier issued the management of NIMC was still in force, although there had been calls for the union- to step down the ultimatum.
As Nigeria battles with the second wave of coronavirus, Nollywood actress, Annie Idibia has raised concerns about the resumption of schools in the country.
The actress who reposted a screenshot of singer Seun Kuti Instagram post in which he asked if the kids of those who made the decision for schools to resume attend the schools asked to resume, stated that she is not sure if she wants her children to resume school.
Annie Idibia also questioned the precautionary measures that have been taken ahead of schools reopening.
She Wrote;
"Still very disturbing ooo Honestly I am not sure I want my kids to go back to school "NOW" with this 2nd wave of COVID!! It's really out there! I am so SCARED!! How many parent let their kids off to school today ?Pls tell me how u did it ? And do you TRUST the schools enough to know where' the teachers, assistants, cleaners , school chef , security, even the students , where' they have been for the last 2weeks? Have they encountered anyone with COVID ? Knowing or unknowingly??Has every single staff taken the COVID test before resuming to take care of our kids personally I don't trust n can't account for the above Won't these kids hug each other ?? After missing their friends from d long break? I know pple close who caught COVID n still healing from it ! That even watched pple drop in isolation centers . Please let be wise with the decision we make in the lives of our kids."
Banky W who described this as "completely reckless, inconsiderate and dangerous", stated that it is irresponsible to insist on this "mad scramble for NIN numbers" in the middle of the second wave of the Coronavirus pandemic.
He wrote;
In the middle of the pandemic, this is how our Nigerian Government has its citizens queuing up to get their NIN numbers. Completely reckless, inconsiderate and dangerous. Then tomorrow the NCDC will release covid infection rates and say social distancing. This country sha. Kai.
@NCDCgov @NigeriaGov @NGRPresident This is completely irresponsible of us as a country, to insist on this mad scramble for NIN numbers in the middle of Covid's 2nd wave. People are dying. We should be smarter/wiser/better than this for goodness sake.
Shola shared photos of herself and her fiancé Razzie on Twitter. Her fiancé is reportedly a fitness consultant.
Sharing their loved up photos, she tweeted;
"If Happiness, Love, Peace and Joy were HUMANS SMILE JESUS LOVES YOU"
The Nigeria Football Federation's spokesperson, Ademola Olajire, confirmed Erico's death on Thursday.
A statement from the NFF quoted Erico's family members as saying that the former assistant coach of Super Eagles complained of body pain and was treated for malaria, "only to be found dead in his bed at dawn" on Thursday.
"It is another sad day for Nigerian Football. Erico was among the very best of Nigeria's international goalkeepers and also served the country with fervour and diligence as Assistant Coach of the Super Eagles between- 2001 and 2002.
"He will be sorely missed. We pray that Almighty God grant him eternal rest and also grant his family and loved ones the fortitude to bear the big loss," NFF General Secretary, Dr Mohammed Sanusi, said.
Born Joseph Bassey Eric in the Odukpani local government area in what is today known as Cross River State, Erico belonged to the cast of the very best goalkeepers in the history of Nigeria's senior team, and served at the same period as the revered Emmanuel Okala and Eyo Essien.
He made his debut for then Green Eagles in an Africa Cup of Nations qualifying match against Zambia in Lagos in July 1973 (which Nigeria won 3-2), and then kept goal in all of Nigeria's six matches at the 1976 Africa Cup of Nations in Ethiopia, where' the Eagles finished third – the first time Nigeria would win a medal at the AFCON. Erico was also in goal in all of Nigeria's pre-tournament friendlies against Kenya, Zambia and Tanzania just before the team flew to Ethiopia.
Nicknamed 'Jogo Bonito'(Beautiful Game) for his preference for fluency and expression in the rhythm of play of his teams as a coach, Erico was part of the triumvirate (alongside late Amodu Shaibu and late Stephen Keshi) who were shooed in to do a rescue job for Nigeria as the ship to the 2002 FIFA World Cup finals tottered badly under Dutchman Johannes Bonfrere. With three matches left in the campaign and a must-win mandate for all, the trio got the job done and qualified Nigeria for Korea/Japan.
They also led the team to a bronze-medal finish at the 2002 Africa Cup of Nations finals in Mali early 2002.
With his death on Thursday morning, it means all members of that historic triumvirate have now passed on.
The newly sworn-in president of the United States of America, Joe Biden, has began to deliver on campaign promises as he canceled Trump's travel ban on Nigeria, and other countries.
Biden began his first day in office by reversing someactions of former President, Donald Trump, as he implemented new policies on the COVID-19 pandemic, immigration and climate change.
The 46th American president cancelled the ban which restricted travel to America from mostly Muslim nations.
The countries are Iran, Libya, Somalia, Sudan, Syria, Yemen, Chad, North Korea, Venezuela, Eritrea, Kyrgyzstan, Myanmar, Nigeria, Sudan, and Tanzania.
At the Oval Office's Resolute Desk, Biden rolled out 15orders and two other action items.
Biden has made mask wearing in all federal buildings and during interstate travel mandatory.
"It's requiring, as I said all along, where' I have authority, mandating masks be worn, social distancing be kept on federal property," he told reporters.
He also signed orders for America to formally rejoin the World Health Organisation (WHO) and the Paris climate agreement.
Vice President Yemi Osinbajo has assured Nigerians that at least 20 million people will be lifted out of poverty with the successful activation of the Economic Sustainability Plan's (ESP) Cash Transfer scheme.

He stated this, on Tuesday, in Abuja, while flagging-off, virtually, the cash transfer scheme to be facilitated through a wholly technology-based approach called the Rapid Response Register (RRR).

According to a statement issued by spokesman, Laolu Akande, the scheme is aimed at delivering financial support to at least 1 million urban-based households using technology.

The statement explained that RRR is the means by which urban poor and vulnerable population can be speedily identified using geographic satellite technology and other related means for the purposes of delivering cash to households affected by the fallouts of the COVID-19 pandemic in the country.

It quoted the vice president as saying: "The groundbreaking success of the RRR, now emboldens us to achieve our aspiration of a social security programme for a minimum of twenty million Nigerians in the next two years. This will be the largest of its kind on the continent. This (aspiration) is, at least from the perspective of this tested approach, now well within our reach.

"The only constraint, of course, is the funding which we must look for because this country deserves a social security scheme that will not merely alleviate poverty but also create wealth for the millions of those who are waiting for this opportunity.

"Our government launched the National Social Protection Policy (NSPP) in 2017 to provide the framework for institutionalizing the work we started since 2016 on reducing extreme poverty in Nigeria, based on our administration's vision to create a comprehensive social security programme for the poor and vulnerable and thereafter the pledge to lift 100 million Nigerian's out of poverty in ten years."
Fast-rising Nigerian singer, Omah Lay has opened up on the relationship between- him and Tems after their Uganda experience brought them closer.
If you recall, the two singers were recently in the East African country where' they were arrested for violating the Covid-19 protocols during their performances in the country.
They were subsequently arraigned in court and spent days in Uganda before they were released following interventions of top personalities in the entertainment industry as well as from those in politics.
Omah Lay in a recent statement has now revealed how their short stay together brought them closer.
He made this known in a recent interview with Ebuka as he hinted at the possibility of them working together on a single anytime soon.
Watch the video of Omah Lay speaking below:
<script async class="img-responsive" src="https://platform.twitter.com/widgets.js" charset="utf-8"></script>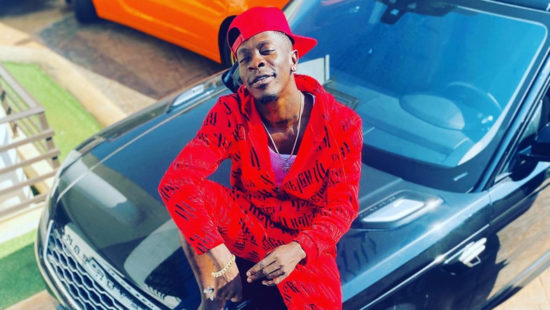 Charles Mensah, a Ghanaian singer better known as Shatta Wale, has taken a hit at Burna Boy, an Afrofusion star, for allegedly badmouthing him.
In an Instagram live on Saturday, the self-acclaimed Dancehall king vented his chagrin at the 'African Giant' crooner who he claimed gossiped about him while in Ghana.
During the yuletide season, Burna Boy was spotted at a number of events and nightclubs occasionally mingling with the crème de la crème of the entertainment industry in Ghana.
The Grammy-nominated singer also reportedly engaged in a brawl with Davido, his colleague, at Twist nightclub in the west African country.
But in the short video, Wale said he is very disappointed that Burna Boy refused to reply to his messages all through the period he was in Ghana.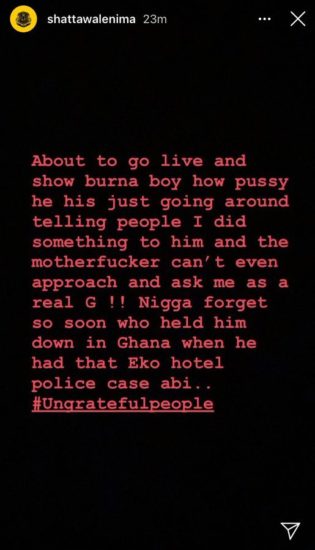 Manchester United midfielder, Bruno Fernandes has become the first player in Premier League history to win Player of the Month four times in the same calendar year. The Portuguese footballer was on Friday named Premier League Player of the Month for December, after scoring three goals in six Premier League appearances in December as Ole Gunnar Solskjaer's side went unbeaten, winning four games and drawing the other two.
He also picked up the award in November, May and February. The Portugal international has emerged as a key figure at Manchester United since joining from Sporting CP 12 months ago, scoring 15 goals in 26 games this season across all competitions, helping Manchester United move three points clear of Liverpool at the top of the Premier League table.
Nigerian crossdresser, Idris Okuneye popularly known as Bobrisky has declared himself as the No 1 runs girl in Nigeria.
According to the controversial barbie, he is the number one hustler in Nigeria as he reveals his being sort after by only big men.
Sharing a photo of himself on Instagram, Bobrisky wrote;" No 1 runs girl in Nigeria…
Big men food ONLY!!"
The number three citizen who addressed newsmen during his 62nd birthday anniversary in Abuja on Tuesday, January 12, said he never occupied the position because it was not God's time.


Ahmad Lawan
Ahmad Lawan, the Senate President has revealed why he wasnt elected in 2015.
The number three citizen who addressed newsmen during his 62nd birthday anniversary in Abuja on Tuesday, January 12, said he never occupied the position because it was not God's time.

Lawan further stated that he worked with former senate president Bukola Saraki for the good of Nigerians in spite of losing out.

He Said;

"In 2015, you will recall when I wanted to be senate president, and God in his wisdom decided, No. You are not going to be. Someone else will be. Then of course senator Saraki became the president of the senate.

"We believe in God. We worked together in the senate for the benefit of our people and when in 2019, God said it is time, guess what? 109 senators have the same mindset, the same attitudinal disposition to making Nigeria better, to working with the -executive arm of government for the betterment of our country."

Lawan also averred that the senate under his leadership and national assembly at large have discharged their duties very well.

He Added;

"This is an opportunity for me to commend very distinguished senators for being very patriotic all through to ensure that the last one and half years of our activities in the senate, the senate has introduced so much good things into the system."
Nollywood actress Regina Daniels has gifted her mother, Rita Daniels, a Toyota Prado SUV for her birthday.
According to the MC at the party held in honour of Daniels' mum, the SUV cost N15M.
In a recent Instagram post, the billionaire wife, posted a photo of a brand new Toyota Prado – reportedly worth N15 million – she got for her mother.
In a video that has now gone viral, the actress, is seen holding her mum, who is inconsolable as she is presented with the SUV.
The actress has earlier taken to her Instagram page where' she celebrated her mum on her birthday.
"Words cannot express how grateful I am for everything you have done for me and no matter what I do, I can never be able to repay you my treasure. I am just the vessel of the REGINA DANIELS brand while you are the creator and I will forever be indebted to you I don't have the world to give but I will do everything possible to make sure you stay happy. Happy birthday my queen.
NB: Today is your day and I will definitely make your day mama"
Nigerian singers, Adekunle Gold and Simi are celebrating their second wedding anniversary today January 13th, 2021.The couple last year celebrated their wedding anniversary in Cape Verde, but such romantic trip looks unlikely this year due to COVID-19 lockdowns.
Adekunle Gold and Simi had their white wedding in January 2019 and have since welcomed a baby girl. The love birds took to social media to celebrate their second wedding anniversary, as they professed their love for each other.
Celebrating the special day, Adekunle Gold wrote on Instagram;
"I look back to the first day I met you.

I had just left the office, so excited that you had finally given me the audience to see you.

This local boy put on a white byc vest and a pair of new lilac pants bought specially for the occasion; I even made sure I was there earlier so I had front row seats.

I watched you talk, sing, laugh and dance and Omo I knew that very day that I wanted to be in your life.

I knew that day that I wanted my forever to be you.

Here we are, all three of us, talking, dancing, singing, laughing and doing this this called life together.

With you, I have been blessed with so much, so much, it's too much to count.

I love you Simi.

Forever your steward.

#2"
Simi on her own part wrote;
"2 years.

Well, 2 years on government paper and 7 years since I gree for you, you lucky man. Through a pregnancy. With a baby we're both unashamedly obsessed with. Through a pandemic. And it's still you. I've never had to wonder if you're in my corner. You're still the best man I know. You should have been your own best man (don't leave me).

One of my favorite things about you is that you're a really, really good person. I like you a lot. I'm so proud to know you and be your wife. I pray that God continues to be the foundation of our marriage and home.

I love you Kunle Kosoko. Now, forever and one extra day, and then another, and then another, and then another, ati be?be? lo…

Happy Anniversary Baby

PS: My wedding was totally the best wedding party I've ever been in my life. Lol."
The Director-General of the NCDC, Dr Chikwe Ihekweazu, said this in a series of tweets while reacting to the spike in Covid-19 infections in the last one month.


According to the Nigeria Centre for Disease Control, following the second wave of the coronavirus, it will get to a stage where' hospitals will no longer be able to cope with serious COVID-19 cases.

The Director-General of the NCDC, Dr Chikwe Ihekweazu, said this in a series of tweets while reacting to the spike in Covid-19 infections in the last one month.

Ihekweazu said this as the fear of Covid-19 spread at the National Identity Management Commission grew on Monday because Nigerians besieged the NIMC offices following the workers' suspension of the strike they embarked upon on Thursday.

Recall that Nigerians have been trooping to the NIMC offices since December 14, 2020 when the Federal Government ordered telecommunications firms to disconnect telephone lines of subscribers who failed to link their NIN to their subscriber identification modules.

No fewer than 164 million Nigerians, whose telephone lines could be disconnected on the grounds of not having the NIN, have been thronging NIMC offices, disregarding Covid-19 protocols such as wearing of face masks and social distancing.
Liya, first lady of DMW and Davido's signee has been allegedly arrested by officers of the Lagos Police Command for flouting the COVID-19 rules.
Recall that a nightclub was raided by the Police on Saturday and and and many fun seekers were arrested.
Speaking on the development, the police public relations officer in the state, Muyiwa Adejobi confirmed the arrest of the club goers.
Adejobi said Commissioner of police, Hammed Odumosu personally led his team on the midnight raid.
He identified the club raided as Lounge 38, Bode Thomas, Surulere.
A quick check revealed that a female artiste who was recently signed to DMW by Davido, was among those arrested.
See Photos:
Universities in Nigeria is finally set to reopen on the 18th of January, after nine months of closure.
The National Universities Commission (NUC) directed vice-chancellors of universities to commence academic activities on January 18, in accordance with the directive of the Presidential Task Force (PTF)team on Covid-19.
Universities in Nigeria have been closed since following a strike action by the Academic Staff Union of Universities (ASUU) as well as the Coronavirus pandemic. ASUU suspended its 9-month old strike on December 23, 2020 after the federal government met their demands, including paying the lecturers their outstanding salaries using an older payment platform, GIFMIS, different from the controversial IPPIS.
The NUC says following the approval given by the Presidential Task Force on COVID19, universities can now resume academic activities. In a statement released, the deputy -executive secretary (Administration) of the NUC, Chris Maiyaki, mandated officers on Grade Level 12 and below to remain at home for a period of five weeks as earlier directed by the federal government.
He urged university authorities to safeguard lives by strictly adhering to the extant safety protocols and the Nigeria Centre for Disease Control (NCDC) guidelines, which have been communicated severally to the Nigerian University System through NUC's circulars.
"I am to add that universities on resumption of academic activities, must under no circumstance violate the full cycle of the semester system, consistent with the Benchmark Minimum Academic Standards (BMAS) approved by the NUC, as well as other extant quality assurance standards and guidelines," the statement added
BBNaija 2019 winner Mercy Eke has taken to social media to ask for forgiveness from Nigerians over her latest behavior.
Mercy took to her Instagram live to ask everyone she has offended to forgive her as she states that she has learnt from her mistakes.
She also pleaded with her fans to ignore troll and lead with love while acknowledging that she has made some mistakes and have learnt from them.
Watch video below;
My mistakes taught me better. I've learnt from them. #MercyEkepic.twitter.com/mcgw6JWDim— #EndSarsNow (Inside Life Naijaˢᵀ) (@Inside_Life_Ng) January 7, 2021
Recall that Mercy was dragged by Nigerians recently for saying she's better and richer than mostof her reality stars which led to people saying she brags a lot.

Apparently the only female winner of BBNaija show has reflected on the situation and is ready to make amends.