Recall that the CCT chairman, Umar on Monday was caught on video hitting a security guard at Banex Plaza, Wuse 2, Abuja.
In the defence of his principal, the CCT spokesperson identified as Ibraheem Al-Hassan had in a statement said the security guard was rude and prevented Umar from using a vacant parking space.
Al-Hassan had said the guard threatened Umar, while some "Biafran boys" also harassed him.
The CCT spokesperson later said it was Umar who asked him to use "Biafran boys" in the statement.
In a statement on Saturday, Falana said the use of the phrase constitutes xenophobia which contravenes the cybercrime law.
"The use of the words "BIAFRA boys" in the statement (produced through a computer system or network) on the instructions of the Chairman of the Code of Conduct Tribunal and distributed to the media last week constitutes a contravention of section 26 of the Cybercrimes Act 2015 which prohibits the use of "racist or xenophobic material" in any written or printed material which advocates, promotes or incites hatred, discrimination or violence, against any individual group of individuals, based on race, color, descent or national or ethnic origin, as well as religion if used as a pretext for any of these factors," Falana said.
"The person alleged to have suggested the use of the xenophobic words is liable to be prosecuted for the serious offence. The penalty for the offence is 5 year's imprisonment and/or a minimum N10 million fine."
British rapper, Stefflon Don has deleted pictures of her Nigerian boyfriend, Burna Boy from her Instagram page.
A check on her profile on the social media platform revealed that she has deleted all of his photos, except for one.
Recently, there have reports of the "Dangote" crooner cheating on Stefflon Don, his girlfriend of two year. A lady had leaked what was alleged to be an after-s*x video and it showed Burna sleeping bare bodied as the side chic filmed him.
Although Stefflon Don initially appeared unbothered about the cheating reports, she has now deleted all photos of Burna.
Check out screenshots below;
A Only Fan Lady has cried out Twitter after her boyfriend impregnated a girl who joined them for threesome.
According to lady @Wynter, she and her boyfriend decided to have a threesome and they invited another girl to join them to film the scenes.
Unfortunately for them, the girl got pregnant and refused to abort the pregnancy. The lady on Twitter lamented as she revealed that she love her boyfriend but don't want to be step mother.
She also said she was willing to pay for the abortion and also give the girl $10,000 as compensation for the trouble.
Read tweets below.
President Muhammadu Buhari on Saturday got a shot of the Astra Zeneca COVID-19 vaccine.
The president was vaccinated by his personal physician at about 11.51 am at a brief ceremony witnessed by top government officials at the New Banquet Hall of the Presidential Villa, Abuja.
Vice President Yemi Osinbajo is expected to get a shot too.
Health workers at the National Hospital, Abuja were the first set of Nigerians to be vaccinated on Friday.
The National Agency for Food and Drug Administration and Control had early on Friday cleared the 3.924m doses of AstraZeneca vaccine which arrived Nigeria on Tuesday for usage in the country.
Students of the Federal Polytechnic Oko in Anambra state celebrated the school's annual Rag Day on Friday, March 5.
Many of the students were seen on the streets in different outfits as many stepped out wearing crazy and creative outfit which looked like rags.
However, one male student's photo got social media attention as his outfit was so creative one would think he is mentally unstable.
See more photos of him below.
Mya Yafai, Young Ma's ex-girlfriend was spotted holding hands with Davido at St. Maarten in United States.
Davido is alleged to be dating the model since last year and has visited him in Nigeria in December and also spent some time with him in Ghana in January.
In the video shared by Mya on her Instagram page, she was spotted having fun with Davido and his crew, flew his private jet and also had his song "Holy Ground" playing in the background.
However, Nigerians are currently dragging Mya on her social media page as they call her a boyfriend snatcher and a side chic.
See some of the screenshot from the comment section below.
The Special Adviser to the Governor on Education disclosed this on Friday via Twitter.
The tuition fee for the Lagos State University, LASU has been reduced by the Lagos State government on Friday, January 29.
Special Adviser to the Governor on Education disclosed this on Friday via Twitter.
The tweet read "Flash: Lagos State government reduces tuition fee for students of Lagos"
An old Tweet written by DJ Cuppy on Twitter confirmed that none of the featured artists in Cuppy's album was paid.
Following the drama with singer, Zlatan Ibile, an old tweet written by DJ Cuppy has resurfaced online.
Recall that DJ Cuppy last year, called out singer Zlatan on Twitter for blocking her on social media for months, without giving her an explanation.Nigerians on social media also dragged Zlatan for blocking the billionaire daughter on social media.
However, Davido's personal logistics manager Afeare Isreal, today revealed the reason why Zlatan blocked DJ Cuppy on social media. According to him, Cuppy did not give Zlatan any money after they featured in the music collaboration.
An old Tweet written by DJ Cuppy on Twitter confirmed that none of the featured artists in Cuppy's album was paid. The throwback tweet was a response to a tweet made by a fan who wondered how much she paid Fireboy for him to have featured in her album.
Nigerian artiste, Rude Boy has adviced to be careful of people who only remembers one only when they need assistance.
According to the singer, there are people who only remember him when they need money from him.

Taking to Twitter, Rude Boy says he is not helping such people in 2021 since all they know how to do is collect from him. He added that he would pick such people's call again.
"Beware of people who always call you or remembers you when ever they need money ….. since na just to de collect be Una own 2021 Una go call taya "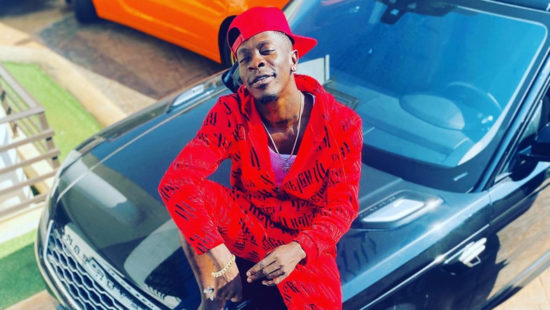 Charles Mensah, a Ghanaian singer better known as Shatta Wale, has taken a hit at Burna Boy, an Afrofusion star, for allegedly badmouthing him.
In an Instagram live on Saturday, the self-acclaimed Dancehall king vented his chagrin at the 'African Giant' crooner who he claimed gossiped about him while in Ghana.
During the yuletide season, Burna Boy was spotted at a number of events and nightclubs occasionally mingling with the crème de la crème of the entertainment industry in Ghana.
The Grammy-nominated singer also reportedly engaged in a brawl with Davido, his colleague, at Twist nightclub in the west African country.
But in the short video, Wale said he is very disappointed that Burna Boy refused to reply to his messages all through the period he was in Ghana.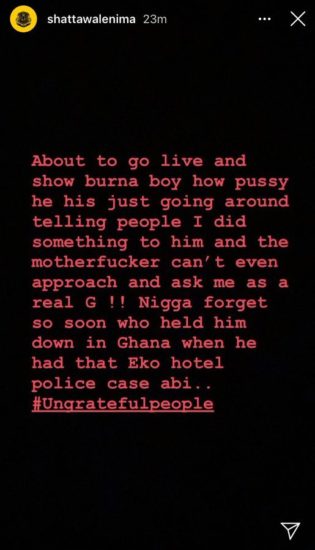 A High Court in the Federal Capital Territory has stopped the prosecution of Pastor Sam Adeyemi of Daystar Christian Centre, Burna Boy, Davido, Falz, activist Deji Adeyanju and others over the #EndSARS protest.
The High Court ordered a Magistrate court to immediately stop proceedings and stay action against 50 persons who supported the #EndSARS protests, following a criminal complaint filed by lawyer Kenechukwu Okeke.
Okeke in his suit alleged that during the riot, properties were destroyed and the defendants who promoted the #EndSARS protests must be held responsible for it and also brought to justice.
Justice Bello Kawu who delivered a judgement on the application filed by Activist Deji Adeyanju (one of the defendants) for a judicial review of the substantive matter before the magistrate, said;
"An order of this honourable court granting leave to the application to issue and serve on the defendant an application for judicial review against the proceedings/direct criminal complaint of Hon. Omolola Tolulope Akindele sitting at Chief Magistrate Court II, Wuse Zone 6 in the suit of Kenechukwu Okeke Vs Deji Adeyanju and 49 others in suit No. CR/49/2020.

"An order of this honourable court, that on the grant of the above orders herein, serve as stay of all proceedings on the direct criminal complaint Omolola Tolulope Akindele sitting at Chief Magistrate Court II, Wuse Zone 6 in the suit of Kenechukwu Okeke Vs Deji Adeyanju and 49 others in suit no. CR/49/2020.

"An order of this honourable court, that on the grant of the above orders herein, same order as granted by the honourable court shall restrain the Nigeria Police Force, 2nd and 3rd defendants from taking any further steps, arresting and or taking any unconstitutional/illegal steps in the form of any guise as it concerns the subject matters whatsoever before this court herein as it concerns all parties in the proceedings."
Nigerian singers, Adekunle Gold and Simi are celebrating their second wedding anniversary today January 13th, 2021.The couple last year celebrated their wedding anniversary in Cape Verde, but such romantic trip looks unlikely this year due to COVID-19 lockdowns.
Adekunle Gold and Simi had their white wedding in January 2019 and have since welcomed a baby girl. The love birds took to social media to celebrate their second wedding anniversary, as they professed their love for each other.
Celebrating the special day, Adekunle Gold wrote on Instagram;
"I look back to the first day I met you.

I had just left the office, so excited that you had finally given me the audience to see you.

This local boy put on a white byc vest and a pair of new lilac pants bought specially for the occasion; I even made sure I was there earlier so I had front row seats.

I watched you talk, sing, laugh and dance and Omo I knew that very day that I wanted to be in your life.

I knew that day that I wanted my forever to be you.

Here we are, all three of us, talking, dancing, singing, laughing and doing this this called life together.

With you, I have been blessed with so much, so much, it's too much to count.

I love you Simi.

Forever your steward.

#2"
Simi on her own part wrote;
"2 years.

Well, 2 years on government paper and 7 years since I gree for you, you lucky man. Through a pregnancy. With a baby we're both unashamedly obsessed with. Through a pandemic. And it's still you. I've never had to wonder if you're in my corner. You're still the best man I know. You should have been your own best man (don't leave me).

One of my favorite things about you is that you're a really, really good person. I like you a lot. I'm so proud to know you and be your wife. I pray that God continues to be the foundation of our marriage and home.

I love you Kunle Kosoko. Now, forever and one extra day, and then another, and then another, and then another, ati be?be? lo…

Happy Anniversary Baby

PS: My wedding was totally the best wedding party I've ever been in my life. Lol."
Wilfred Ndidi revealed that he hawked pepper, groundnut, among other things to support his mother while growing up.


Wilfred Ndidi
Wilfred Ndidi, a Nigerian footballer who also plays for Leicester has revealed how he had to struggle to survive.
The football talent who was discovered in a local competition in Nigeria has narrated how he was hawked on the streets to support his mother financially.

Speaking with Nigerian football journalist Oluwashina Okeleji via The Frame online publication platform, Wilfred Ndidi revealed that he hawked pepper, groundnut, among other things to support his mother while growing up.

According to him, none of the things he sold gave him fame more than groundnut and that was where' he got the nickname 'groundnut boy'.
He Said;

"I did different things. Sometimes I hawked pepper, I sold water [sachets], tomatoes and fruits for my mother.

"But I became famous for selling [groundnut] peanuts. They call me the groundnut boy. I did all these things to support my mother.

"As a side hustle, to get my own personal money I was wiping the windscreens for cars held (up) in traffic. If I'm lucky sometimes I make about N2000 (almost R80) in a day but the highest I made was N3000 (around R118)."

Ten men suspected of engaging in internet fraud have been apprehended by Operatives of the Economic and Financial Crimes Commission, EFCC, Lagos Zonal Office.
The suspects are: Jonathan Daniel Adebayo, Lawal Waidi Seun, Adeosun Joseph, Taiwo Gbemileke, Oseni Omotayo, Emmanuel Fakiyesi, Rasheed Ogunlana, Oladunni Segun, Sowunmi Rotimi, and Efetobore Prince Wilfred.
They were arrested on Saturday, January 9, 2021, during an early morning operation in the Alagbado area of Lagos, following credible intelligence received by the Commission about their alleged criminal activities.
According to the commission, officials recovered cars, mobile phones, laptop computers, passports, a digital video recorder, and a checkbook from the suspects at the point of arrest, They also disclosed that the suspects will be charged to court as soon as investigations are concluded.
Big Brother Nigeria star, Erica Nlewedim, has taken to social media to reveal that she was missing her husband.
The controversial reality recent statement has raised eyebrows as online users tries to decode what she means by "missing her husband".
Recall that Erica and fellow BBNaija star, Kiddwaya, have been a couple since they met on the show and has continued to display their relationship online.
However, some internet users asked her to make her statement clear, as they speculate that the actress was referring to Kiddwaya as her husband.
Read what some fans had to say below:
@EricaNlewedim pls always make ur statements clear so bloggers, fans & the public don'tmisinterpret ur statements. Theirs a fine-line btw cruise & clout chasing, I will assume that ur "I miss my husband" refers to ur dad or love one here. Compliments of theseason to everyone.— Daniel Regha (@DanielRegha) January 2, 2021

Mmmh!! Erica, pls whatever you type or do will be used against you in the court of drag. Hope you are ready for thedrag in 3..2.1...
Headlines:
Gistwell: Erica cries for Kiddwayaafter seeing Nengi's Range Rover and birthday party organized by Ninjas.
I just don't have powero!— Pam Pam (@pamychiy) January 2, 2021

Confusion my foot. What'sconfusing about this? It's very detailed. Gbola is her number onepriority in life. That was why she could not think and ack well in the house. And she is still doing the same now.— phunmmexy (@phunmmexy) January 2, 2021

So buying Gifts and stylishly begging for Assurance isn'tenough you are now calling a boy who's enjoying with his Dubai girlfriend your Husband chaii 🙆 if husband don dey hungry you,go and marry and stop wasting your time waiting for a billionaire son 🙏— Senior 🌶️🌶️ (@DebbyLo25238000) January 2, 2021

Big Brother Naija former housemate Vee has gushed over her boyfriend and fellow ex-housemate Neo.

Bee took to her official Twitter page to praise Neo for being the best and sweetest boyfriend ever.

Neo and Vee met during their stay in the BBNaija house and they started dating but their relationship became serious after she left the Big Brother house.
I have the sweetest boyfriend ever wtfff 😩❤️— Vee 🔥 (@veeiye) December 31, 2020