January 1, 2021


Taking to social media, the elated mother of two shared some stunning photos of herself to celebratethe special day.

Mercy Aigbe thanked God for keeping her alive writing;

ANUNIMORIGBA Father to you be all the Glory, Honor and Adoration!Glowing in God's Unending Grace, Chapter 43"


Mercy Aigbe recently said she has not yet given up on love, despite her bitter marriage experience writing;

"I have not given up on love and I would never do that. A lot of people ask, 'Mercy, are you going back to your husband, or remarrying'? The truth isthat I don't even know. I am more focussed on my businesses, raising my children and acting career. Whatever will come after in terms of marriage and relationship, when I get to that bridge, I would cross it. As a filmmaker, I see myself as a sort of preacher because I believe movies are meant to be entertaining and educative."

Big Brother Naija former housemate Rebecca Nengi Hampson is celebrating her 23rd birthday today, January 1, 2021.

The reality star shared stunning photos on social media to mark her special day as she revealed thather birthday this year is a blessing.

Sharing her birthday photos online, Nengi wrote; "I just crossed another bridge. Now, I've come in touch with a new level of happiness. My birthday this year is a blessing I've been longing for.

This wonderful day is a route that leads to eternal joy, unfailing strength and good health. My fears are gone and my worries are buried. I dreamt to age this far. Today, it's all a beautiful reality. Happy birthday to me. It is indeed a new dawn."

Tacha received a whopping sum of N6 million as well as delivery van and bikes from her fans who are popularly called Titans.




BBNaija housemate, Tacha got the suprise of her life from her fans on her 25th birthday yesterday, Wednesday, December 23, 2020.

She was drawn to tears, after seeing the shower of gifts from her fans.

Tacha celebrated her 25th birthday on Wednesday, December 23, and it saw a lot of people wishing her well on social media.

The 25-year-old later held a party for her friends on the evening of her birthday and it was full of surprises for the celebrant.

Tacha received a whopping sum of N6 million as well as delivery van and bikes from her fans who are popularly called Titans.

On Wednesday night, during her Birthday party in Lagos, the Rivers State-born reality TV star was presented a cheque of N6 million.

Thereafter, she was taken outside and was also shown the second set of her birthday gifts which included a customized delivery van and three delivery bikes.

The delivery vehicles were meant solely for her brands, Simply Tacha and Everything Tacha and this simply means that a buyer of any Tacha's products would have to sit at the comfort of home and the products will be delivered at his or her doorstep.

Apart from the gifts, a lot of top rated celebrities in the Nigerian and African entertainment industry made videos and posts to her to celebrate her special day with her. The likes of Tiwa Savage, Funke Akindele, Don Jazzy, Omoni Oboli, Chigul, Eniola Badmus, Omah Lay amongst others did these.

Watch The Video Below;

Nigerian singer, Naira Marley, has professed his undying love to former Big Brother Naija housemate, Tacha Akide.


In a video shared on her Instastories, Tacha said she received an early surprise birthday gift of scented flowers with the inscription; "My Heart and soul belongs to you".

According to her, she thought the lovely flowers were sent to her by an unknown crush but was surprised when her sister told her that the gift was from the Marlian president, Naira Marley.

"So guys I just got this cute flowers sent to me and I'm saying in my head could this be from a crush? I got really hyped and called my sister like babes who's this from you brought it to me and she said it's from Naira Marley," she said."

I was like Naira doesn't have a crush on me, why is he gifting me flowers?
Peter Okoye has asked his fans to get used to the fact that he and his brothers, Paul Okoye and Jude Okoye, are no longer in a good relationship and that the music group, PSquare, is no longer in existence.
The feud between- the brothers came to the front-burner on their birthday, November 18, when Peter's wife, Lola, took to her Instagram page to appeal to Peter and Paul to let their issues slide and make peace with themselves.
Paul Okoye didn't take her post lightly as he went on his Instastories to attack her, accusing her of not making any effort to reconcile them but instead taking to social media whenever it is their birthday, to make an appeal for them to settle their differences.
In a post shared on his IG page this morning, Peter addressed the concerns of his fans who have made several appeals for him to settle with his brothers and for the music group, Psquare to come back together. He opined that they should get used to the breakup as nothing lasts forever.
Regarding those who always mention that ''blood is thicker than water', the singer wondered if his wife and children have ''water and zobo'' in their system. His post reads
''It's just 24hrs before My long awaiting single FOLLOW MY LEAD Drops! Let me get this off my chest before some people start there usual preaching!

Listen! Nothing lasts forever and Change is constant! Everyday they continue barking!
*Apologize to your bros
*Bring back our Psq
*We don't know Mr P... we only know Psq
*He doesn't know how to sing
*He is nothing but a dancer
*His career is dead
*Such a noise maker
*Why is he so Childish
*You are now an upcoming artiste
Waa! waa!! waa!!!

Pls let me ask, Have you ever felt liberation when you do what you're passionate about, follow your dreams, follow your heart. Go back! Go back!! Go back!!! and do what exactly? after saying I dont know how to sing?

And again! Going back is it not for me to make more money? Since you know better! So why is that your problem? I thought i wrote an official resignation letter 4 yrs ago that I was no longer part of the group! Na by force?

For those barking "I only know Psq i don't know Mr P and ...." Go to Psq page and do the barking. I am no longer part of the group!

Pls this page is for me and my dear fans Team P! Please let's enjoy our new coming single "Follow My Lead" in peace!

Mr P's fans is all that matters now! If you are still angry that my handle still has Psq come and remove it yourself
We have since moved on and its best y'all do the same! Support who you wish to support and move on. It is not a competition and I am not even giving any room for that. So Psq fans Take heart and get used to it! nothing last forever! Again Change is constant.
This is no longer about what you want! It is about what we want, so respect our decisions.

We r not the first group to split or make such decisions! Plantashun Boiz, StylePlus, Mohits and Remedies So enough of the time wasting!

Blood is thicker than water! Blood is thicker than water! Please my wife and children are they the water or Zobo?''.
Margaret Keenan, the grandmother who became the first person in the world to receive the Pfizer/BioNTech vaccine for Coronavirus, has been discharged from the hospital.
The 90-year-old made global headlines after she was given the coronavirus jab at University Hospital Coventry at 6.31 am on Tuesdah December 8.
On Wednesday afternoon, December 9, Margaret was pictured smiling and holding hands with her grandson Conor and daughter Sue as she left the hospital.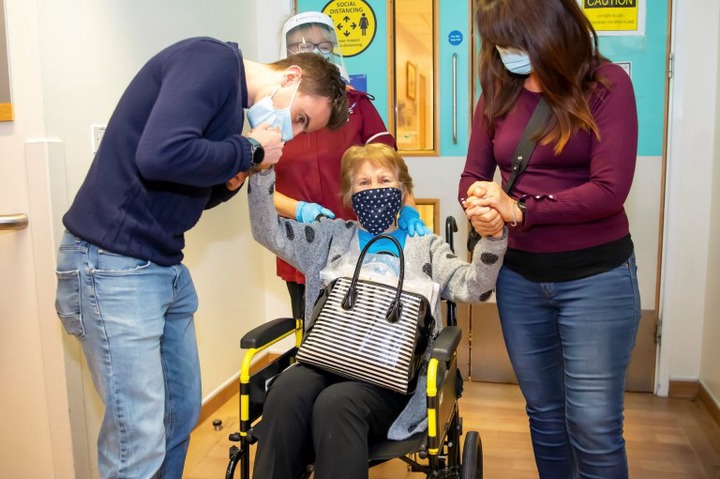 The retired jewellery store assistant said she felt 'great' upon being discharged.
In a statement released through NHS England, Mrs Keenan said: 'Yesterday was a massive day for me personally and for the rest of the world as we all look to get back to some sort of normality.
'It has all been such a whirlwind and everything hasn't really sunk in yet. I feel great and I'm so pleased to be able to go home and to spend some quality time with my family. 'I would like to say thank you to the hospital and its staff for the care and support shown to me during my stay – they have been truly amazing.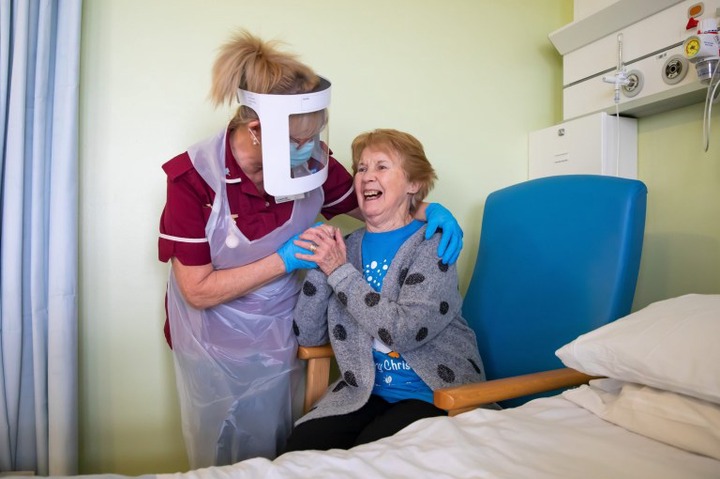 'My family and I are so grateful for the positive comments and well wishes received.
'I would urge everybody to get their vaccine as and when they are asked to do so.'
The UK is the first nation to start immunising its population in what has been hailed as a turning point in the battle against coronavirus.
Mrs Keenan, who marks her 91st birthday next week, received the first of 800,000 doses of the Pfizer/BioNTech vaccine.
Speaking immediately after receiving the vaccine, administered by matron May Parsons, Mrs Keenan told of the 'great opportunity' of being offered the jab.
She said: 'I can't thank May and the NHS staff enough who have looked after me tremendously, and my advice to anyone offered the vaccine is to take it – if I can have it at 90, then you can have it too.'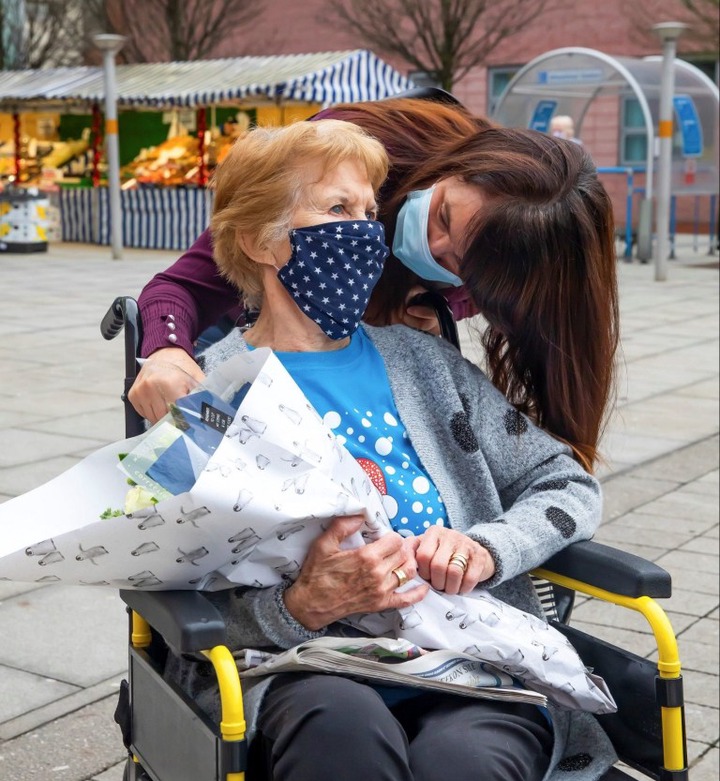 Lilian Afegbai took to Instagram to encourage her followers after she bought a Birkin bag worth $22K.
The actress shared a photo of the bag and a screenshot of the transaction details and wrote: "There's time for everything, I got this for my birthday but it arrived late...
"I remember when I could only afford an Aldo or Zara bag.... Now I can get myself a birkin worth 22k dollars.
"Enjoy the process, very soon you will get everything you want. It just takes time. More to come."

Seventeen year old Nigerian girl, Chisom Chukwuneke, who made straights A's in the 2019 West African Senior School Certificate Examination is dead.

Chisom was one of the brilliant student who got 7 A1s in WAEC. She also emerged as the best student from her school, Graceland college in Enugu and was inducted in to the school's hall of fame in 2019.

A Facebook user, Michael Okoli shared the sad death of Chisom. He revealed that Chisom lost her life following an undisclosed sickness which started off as a leg pain but became severe over the year.

He also said that the deceased parents flew her out of the country to South Africa for treatment in other to safe her life but unfortunately she didn't survive the sickness.

He wrote;The Parents of Chisom Chukwuneke, the best student from her school with 7 A1 in WAEC exams last year are deep in mourning.

The parents lost their daughter who scored 7 A1 in her WEAC Examination last year. The young girl whose name is Chisom Chukwuneke, was the best graduating student in her school last year. She won many awards in her school, and now death has caught short the life of this Young girl.

He wrote; "The father of the Girl who is a Professor, shared a very touching story of how his daughter died. He shared the story on his Facebook account. According to what he posted, the young girl started complaining of having a pain in the leg. And just like every father that desires the best for their child, he decided to fly her to South Africa because he didn't have trust in the medical system of this country.

"At first, they were happy with her recovery rate, but they never knew it was going to end like this. They started treatment there in South Africa, and they were fighting the sickness that started as a leg pain, and later grew into something else for over a year. The father talked about his late daughter's character, and how she was strong and did her best to fight the sickness. He even talked about the gift his daughter promised him before his birthday, he didn't know that the gift will be her death.

Award winning Highlife singer, Flavour Na'bania is set to release a brand new album titled "Flavour Of Africa."
He made the announcement as he marked his birthday today. The album, his eight, is set to be released online on December 4th.
Read full statement below:
Born in Enugu, hailing from Anambra State, Chinedu Okoli popularly known as Flavour N'abania
or more recently, the 'Flavour of Africa' is recognized as Africa's Highlife King.
Flavour's brand of music is a fusion of African Rhythm, Highlife and contemporary Jazz, in one
phrase: "Afro Hip-Life". His music has grown to be immensely popular and enjoyed by music
enthusiasts all around the world.
In 2008, Flavour released his 8-track-album titled "Nabania", which received sales of over 10
million copies nationwide. In 2010 his sophomore album, "Uplifted" with hit singles "Nwa Baby",
"Oyi" and "Adanma" received even more success. The album made waves on various media
platforms. The success of Uplifted allowed Flavour to become one of Africa's premiere
performing artists as well as enabled Flavour to headline major national and international music
events throughout Africa, America, Asia, Europe, and Australia.
Flavour has performed alongside acts such as Snoop Dogg, Ciara, French Montana, Lauryn
Hill, Akon, Rick Ross and many other international acts. In addition to performing for sold-out
audiences worldwide, Flavour has been featured in major newspapers and media outlets
around the world.
Having garnered numerous awards and nominations across the globe, including MTV BASE
Africa Music Awards (MAMA 2014), a quadruple win at the 2013 Nigerian Music Video Awards
(NMVA's), Channel O Africa Music Awards, NEMEA Awards and being nominated for one of
Africa's most prestigious music awards- KORA Awards, Flavour's natural aptitude for music
continues to be greatly recognized.
His third album "Blessed" was released in October 2012 under his own independent, record
label, 2NITE ENTER10MENT. Since then, Flavour has grown to be a major force in the music
industry both in Africa and internationally.
In addition to Flavour's fourth studio album, "Thankful", which featured an eclectic mix of his
famous Highlife sound; Flavour has had immense public success from the promotional
campaign of his single, "Power to Win", which was confirmed as one of the soundtracks used on
Season 14 of American Idol.
Flavour is currently a brand ambassador for Globacom, Life Beer, Flat Tummy Tea and Bullet
Energy drink.
Flavour made music history during his stint on Coke Studio Africa with his collaboration with top
Ugandan songstress, Juliana Kanyomozi. Both "Ololufe/ Haturudi" and "Nakupenda" music
mash-ups were added to the first ever Coke Studio Africa album. In 2016, Flavour also
launched the 'Flavour of Africa' campaign and tour, which had Flavour perform in a number of
countries throughout West Africa as well as making a number of large charitable donations in
these respective countries. Flavour has twice performed at two of the largest concerts in the
United States of America featuring African artists: One Africa Music Fest in August 2016 as well
as in October 2016. One Africa Music Fest featured acts such as Jidenna, Tiwa Savage, P-
Square, Wizkid, Davido and many more.
In 2017, Flavour dropped a surprise album for his fans, Ijele the Traveler, which featured smash
hits like "Baby Na Yoka," "Nnekata," "Virtuous Woman" and "Most High" featuring Semah G.
Weifur.
Having captivated audiences with his unique and eclectic sound, Flavour has set the standard in
his field and still has a lot more to offer.
About a week after Davido released his third studio album 'A Better Time', the album has charted on the Billboard 200.
'A Better Time' album by Davido debuted on the Billboard 200 at number 170. This would be Davido's first album to ever chart on the Billboard 200.
It also peaked at number 1 on the US iTunes on the USA "Worldwide" Genre Chart. The project debuted on the UK album chart, another first for Davido.
The album was released on November 13, and has 17 tracks including standout tracks like 'Fem', 'The Best', 'Holy Ground', 'Birthday Cake' etc.
Within the first three days of release it reportedly garnered over a 100 million streams from various digital platforms.
The Billboard feat comes just a few days after the singer turned 28 years old.

Singer, Davido's mum, Veronica Adeleke, would have turned a year older today November 23.He posted this throwback photo of he and his mum on his Instagram this afternoon with the caption;

''Happy Birthday Mama ... love and miss you always''

Controversial relationship expert Reno Omokri has disclosed how a man could know if a lady he is with is either a liability or an asset.


Taking to his Instagram page, Reno Omokri wrote on the 7 red flags that the man should look out for to detect if she will make a big hold in his pocket.

He wrote:

7 Red Flags That She Is a Liability, Not An Asset:
* After you date her, you must provide data for her
* If she needs to meet you, you just pay transport fare
* Your money goes to her hair, not her head
* Your account suffers setbacks on her birthdays
* She does not speak big grammar, but she has big drama
* She loves to eat out all the time
* She calls you stingy (serous red flag) if you don't meet her material and financial demands Young man flee from her.
You can never fulfil your potential with her by your side!

Nigerian music star Davido who turned a year older today November 21, has shown off a neck chain he got as birthday gift from his partner, Chioma. Sharing a photo of the neck chain which has an image of him and his mother, Davido wrote "me and my mother, emotional thank you @chefchi".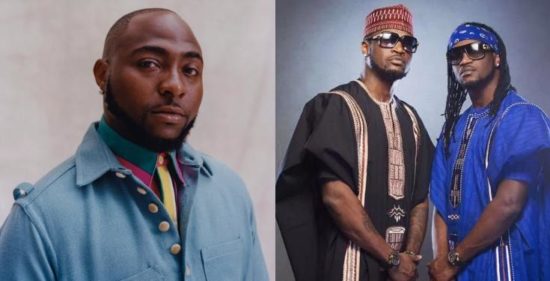 Singer Paul Okoye of defunct music duo, P-Square, has replied Davido for slamming his birthday guests.
Earlier today, Davido took to his Twitter account to slam those who went to Peter and Paul Okoye's birthday separately. Read HERE.
Paul has now replied telling him he has no right o do that, and that he is highly disappointed.
Paul took to his IG story writing;
"On what level, and what audacity do you have to call my family and friends pussy…. bro has it come to this? Am highly disappointed with you…You don't have the right to insult my family and friends…. That's f*cked up.
For your infor….90% of those that came to mine still went to his…. Same the other way round. And I respect their decision." he wrote.