Global football governing body, FIFA has banned Chad from football until further notice.

The decision was taken by the Bureau of the Fifa Council on Wednesday and takes effect immediately.

Note that in December 2020, Fifa had rejected a request from the country's ministry of sports to dissolve the Chadian Football Federation.

On March 10, the minister for youth and sports released a statement to prevent the Chadian Football Association, FTFA, from performing its obligatory duties due to a dispute between- both parties.

CAF then disqualified Chad from the Africa Cup of Nations qualification race, just a few days prior to their fixtures against Namibia and Mali, following the sport Minister's actions.

FIFA has now waded in, banning the country henceforth.

FIFA says the ban was as a result of government interference in the football operations of the African country but announced that the suspension will be reversed as soon as the relevant government decisions have been revoked.

"The Bureau of the Fifa Council decided to suspend the Chadian Football Association (FTFA) with immediate effect due to government interference," a statement from the Fifa website read.

"The suspension was prompted by the recent decisions of Chadian government authorities to permanently withdraw the powers delegated to the FTFA, establish a national committee for the temporary management of football and seize control of the FTFA's premises.

"The suspension will be lifted once the relevant government decisions have been repealed and the FTFA and its management, led by president Moctar Mahamoud Hamid, have confirmed to Fifa that the FTFA premises are again under its control."
Former presidential aid Reno Omokri has revealed reason why most African countries are poor.
According to him, many African succeeded but never wrote a book on how they achieved their success.
Reno said successful men and women in African hoard their knowledge which made it impossible for others to learn from them.
Sharing his thought on Twitter, Reno wrote;
"Too many Africans succeed and never write books about how they succeeded. It is a major reason Africa is poor. Our successful men and women hoard their knowledge making it impossible for others to replicate their success. Give back by writing books"
Reacting to his tweet, some of his followers agreed with him, while others disagreed with him. See some of the mixed reactions.
Not just book's from successful people, we also want book from unsuccessful people, so we can learn from their mistake and failure's

— Jay Jay (@iamrealjayjay) March 1, 2021
Who got rich by reading…. Just asking?

— arTED! (@tedcipher) March 1, 2021
Most of them can't write about their success because there are alot of theft attached in there success.

— Ade Enoch Oluwadamilare (@AdeEnochOluwad2) March 1, 2021
That's right Sir.
Looking from another perspective, when you want to hide something from an African man, put it in writing because the people that need to read how others became successful will never read any book.
— Stephen Samson Ojibo (@SamsonOjibo) March 2, 2021
According to her, people have become meaner despite being aware of mental health challenges other face.
Taking to her Instagram page, Anto lecky shared a picture of hers from a Mental Health Seminar in South Africa two years ago, as she spoke about how things have changed over the years.
She wrote;
"I'm just here to rant today… I took this picture 2 years ago at a Mental Health Seminar in South Africa. While I'm grateful that 2 years later, people are becoming more mentally aware, it also seems like people have gotten meaner! What happened to us?? Someone commits suicide, another person will tweet "Be Kind" but you will scroll down their page and see them trolling people all day long. Make it make sense! Someone will ask their fellow human to report a blog posting lies and humans will say they rather continue reading the gossip. Someone will shave their hair for whatever reason and someone else will say they look like a cancer patient. Someone will get skinny, they must have AIDS. Someone will have big stomach, they must be pregnant. Where did this bad behavior come from?I remember I wrote a post last year about my feelings and problems people close to me were dealing with and humans read it as I was depressed. Some even offered me money thinking I was broke. What is this type of thinking? Who is doing you people?I don't have the answers but I hope everyone can find happiness. The world around us doesn't seem to be getting better so you must create happiness for yourself.
I would love to be a sounding board for anyone that wants to get things off their chest. My DM is open but you have to be very direct and specific. Saying "Hi" will not get you a response. I also won't be able to answer everyone as my personal mental health is key, but I'll continue to try and Be Kind to all."
The Nigeria Football Federation's spokesperson, Ademola Olajire, confirmed Erico's death on Thursday.
A statement from the NFF quoted Erico's family members as saying that the former assistant coach of Super Eagles complained of body pain and was treated for malaria, "only to be found dead in his bed at dawn" on Thursday.
"It is another sad day for Nigerian Football. Erico was among the very best of Nigeria's international goalkeepers and also served the country with fervour and diligence as Assistant Coach of the Super Eagles between- 2001 and 2002.
"He will be sorely missed. We pray that Almighty God grant him eternal rest and also grant his family and loved ones the fortitude to bear the big loss," NFF General Secretary, Dr Mohammed Sanusi, said.
Born Joseph Bassey Eric in the Odukpani local government area in what is today known as Cross River State, Erico belonged to the cast of the very best goalkeepers in the history of Nigeria's senior team, and served at the same period as the revered Emmanuel Okala and Eyo Essien.
He made his debut for then Green Eagles in an Africa Cup of Nations qualifying match against Zambia in Lagos in July 1973 (which Nigeria won 3-2), and then kept goal in all of Nigeria's six matches at the 1976 Africa Cup of Nations in Ethiopia, where' the Eagles finished third – the first time Nigeria would win a medal at the AFCON. Erico was also in goal in all of Nigeria's pre-tournament friendlies against Kenya, Zambia and Tanzania just before the team flew to Ethiopia.
Nicknamed 'Jogo Bonito'(Beautiful Game) for his preference for fluency and expression in the rhythm of play of his teams as a coach, Erico was part of the triumvirate (alongside late Amodu Shaibu and late Stephen Keshi) who were shooed in to do a rescue job for Nigeria as the ship to the 2002 FIFA World Cup finals tottered badly under Dutchman Johannes Bonfrere. With three matches left in the campaign and a must-win mandate for all, the trio got the job done and qualified Nigeria for Korea/Japan.
They also led the team to a bronze-medal finish at the 2002 Africa Cup of Nations finals in Mali early 2002.
With his death on Thursday morning, it means all members of that historic triumvirate have now passed on.
Fast-rising Nigerian singer, Omah Lay has opened up on the relationship between- him and Tems after their Uganda experience brought them closer.
If you recall, the two singers were recently in the East African country where' they were arrested for violating the Covid-19 protocols during their performances in the country.
They were subsequently arraigned in court and spent days in Uganda before they were released following interventions of top personalities in the entertainment industry as well as from those in politics.
Omah Lay in a recent statement has now revealed how their short stay together brought them closer.
He made this known in a recent interview with Ebuka as he hinted at the possibility of them working together on a single anytime soon.
Watch the video of Omah Lay speaking below:
<script async class="img-responsive" src="https://platform.twitter.com/widgets.js" charset="utf-8"></script>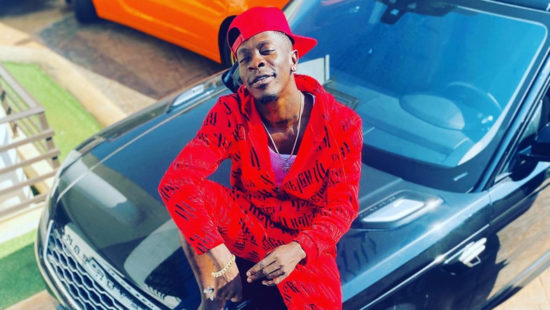 Charles Mensah, a Ghanaian singer better known as Shatta Wale, has taken a hit at Burna Boy, an Afrofusion star, for allegedly badmouthing him.
In an Instagram live on Saturday, the self-acclaimed Dancehall king vented his chagrin at the 'African Giant' crooner who he claimed gossiped about him while in Ghana.
During the yuletide season, Burna Boy was spotted at a number of events and nightclubs occasionally mingling with the crème de la crème of the entertainment industry in Ghana.
The Grammy-nominated singer also reportedly engaged in a brawl with Davido, his colleague, at Twist nightclub in the west African country.
But in the short video, Wale said he is very disappointed that Burna Boy refused to reply to his messages all through the period he was in Ghana.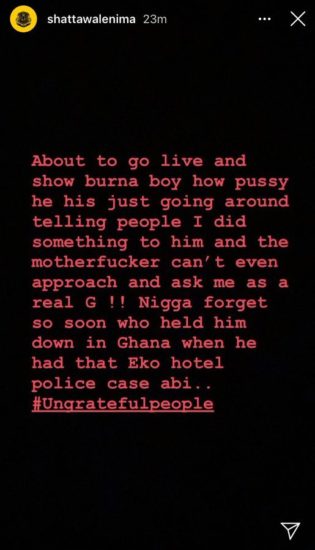 BBNaija ex-couple Ike Onyema and Mercy Eke are no longer together following their messy break online.
However, seems like the drama is far from over, as the reality stars are constantly trying to out do the other in terms of their recent affairs and relationships.
Yesterday, Thursday January 14, a video of Mercy rocking and twerking on her alleged new man while he caressed her ass in a club went viral on social media.
Mercy also shared videos of herself and her alleged man on Snapchat which led to the speculation that the reality star might be seeing another man identified as Montana.
Watch video below.
Bbn Mercy Eke and newest boo, Tana caught having fun at a Lagos Island strip club pic.twitter.com/hRibN90d69

— GistReel.Com (@GistReel) January 14, 2021
Few hours after the video went viral, Ike's Snapchat video of himself having fun with two unidentified ladies feeding in bed in South Africa also surfaced on line.
Watch video below.
You don't mean it .. while your fave is enjoying threesome . @Iam_IkeOnyema why are your thugs crying all over Twitter since morning 😂😭😭 pic.twitter.com/QUi9hg1MnG

— dami_koko (@kokopopped) January 14, 2021
Nigerian singer Davido has reacted angrily after seeing a video of the the wife of a Presidential Candidate, Bobi Wine in Uganda being stripped by Police.
This sad incident is coming just a day before the Presidential election in the east African country., and if you recall, Bobi Wine is contesting against the incumbent, Yoweri Museveni who has ruled the country for over 30 years.
According to report, the Ugandan police force carried out an arrest on the wife of the Presidential aspirant who has the support of the people.
In the viral video, Bobi Wine's wife was dragged, stripped, and tortured in the presence of her son who struggled to rescue his mum while screaming, "leave my mummy."
In reaction, the popular Nigerian singer and songwriter expressed utter disgust at the abuse of power and the violation of human rights.
"Jesus !! This is disgusting !this is so so bad !! POWER IS A DRUG !!". He tweeted.
Watch the video below;
The man said youths in each Igbo community popularly known as Umunna, need to reduce the demands they make to men who come seeking the hands of the female members of their community in marriage.


The Thread
An Igbo man took to social media to lament about the highcost of getting married in Igboland.

Making particular reference to the demands on the marriage lists given to intending grooms in Nnewi, Anambra state, the man who made his complaint via his Twitter handle @Kene_Nnewi, said youths in each Igbo community popularly known as Umunna, need to reduce the demands they make to men who come seeking the hands of the female members of their community in marriage.

He Tweeted;
''I have kicked against this in my umunna and will fight it until the -executive adjust it... If you can... fight for yours as well. Igba-Nkwu in igboland is getting more expensive every day by day.. I told my umunna either we cut down the list of drinks or take all drinks out entirely.... collect 70k for the two goats 10k for few crates and one schnapps and that's it...this issue of gathering to share almost 8bottles of drink per head after Igba-Nkwu have to stop.''

When a Twitter user replied by saying ''African culture dey make things too hard these days'', Kene disagreed saying it is the greed in this generation that has led to the expensive wedding lists

''Not African culture but our generation greediness..our ancestors never had it this way''
See Tweet Below;
Atiku Abubakar, former vice-president, has received the Pfizer COVID-19 vaccine in Dubai, United Arab Emirates.
Paul Ibe, Atiku's spokesman, confirmed the development to TheCable on Thursday.
"The importance of the #COVID19 vaccine in mitigating the effect of the coronavirus cannot be overstated, particularly in Africa and Nigeria. Yesterday (Wednesday), as part of the mass vaccination programme, His Excellency Atiku Abubakar received the Pfizer-BioNTech COVID-19 vaccine," Atiku's spokesman said.
"He is anxiously looking forward to when Nigerians, especially medical professionals in the front line and the most vulnerable will be vaccinated in the country.
The Pfizer vaccine is the first to be granted emergency use authorisation by the WHO, and according to Pfizer and BioNTech, it is 90 percent effective. Big Brother Naija, BBNaija season 2 See Gobe reality television stars and ex-housemates, Uriel Ngozi Oputaand Gifty Powers are back as friends after 2-year fight.
You could recall that the both reality TV stars took part in the Big Brother Naija season 2 show which was held in South Africa in 2017 and they were not been in talking terms since when the show ended, until now.
But taking to her social media page, Uriel revealed that she reached out to Gifty and it was a decision she was glad she made as it appears as if a big burden was lifted off her shoulders.
She wrote:
"After almost 2 years of not talking. I finally sent my @officialgiftypowers a DM I can't lie I feel so relieved I'm not cut out for war sha. sorry goes a long way!! she's a special one❤️❤️ Omo our break up Pain me shaaaaa "I've missed out on so much!! we where' so close. pls don't ask me why we fell out … I don't remember 😭🙄 2021 positive vibes only!! Gosh I feel like a heavy burden has been lifted. Gifty of Life ❤️"
Reno Omokri has opined that Africans don't need suit and tie and a white dress for weddings in 2021.
According to Reno, the entire structure of white wedding is fashioned for European culture and not Christian culture.
He advised couple who are getting married in 2021 to marry in their native African wears. He also said that some African Muslims are also wearing European fashion to get married.
Reno on Twitter wrote; "In 2021, Africans dont need suit and tie and a white dress for weddings. The entire structure of the White Wedding is fashioned after EUROPEAN culture NOT Christian culture. Today, even African Muslims now do it. Marry in your native African wears!"
In 2021, Africans dont needsuit and tie and a white dress for weddings. The entire structure of the White Wedding is fashioned after EUROPEAN culture NOT Christian culture. Today, even African Muslims now do it. Marry in your native African wears!#FreeLeahSharibu#RenosNuggets— Reno Omokri (@renoomokri) December 31, 2020 Nigerian celebrities' barman Cubana Chief Priest has claimed that the entire Nigerian music industry would crash should Davido leave the scene.

Davido had taken to social media to announce that he would be quitting music, after there were multiple online reports that he had a brawl with Burna Boy at a club, Twist, in Ghana.
The brawl was alleged to have started after Burna Boy reportedly moved towards Davido's camp in the club. According to reports, the African Giant was allegedly angered as the DJ in the club continued to play different songs by Davido, despite the fact that Wizkid and Burna Boy were in the club.
So far both Burna Boy and Davido's camp have kept mum over the alleged brawl at the club in Ghana despite videos that have surfaced online as The Punch has reached out to them but to no avail.
Calling on players of the Nigerian music industry to speak to Davido over his decision to quit music, Cubana Chief Priest described the singer as the pillar of the music industry in Nigeria.
He wrote on Twitter;
"If Davido should leave Music, the entire Nigeria music Industry will collapse. We all know how he has lifted so many people today. The real Odogwu himself David Adeleke"